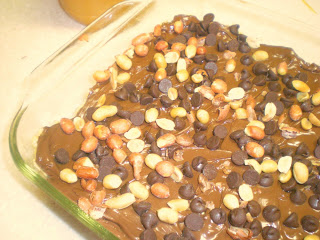 These peanut butter, rice krispie treats came from my love for Nutella. Nutella is in your peanut butter isle in your grocery store. If you have not tried it and you like the taste of chocolate and hazelnut…you're going to want to give this a try.
Peanut butter, rice krispie treats:
printable recipe
3 tbsp. butter
1 large bag of marshmallows or 4 cups mini
1/2 cup creamy peanut butter
6 cups rice krispies cereal or puffed whole grain rice cereal.
1 cup of Nutella chocolate, hazelnut spread
1 cup of salty peanuts
1 cup semi-sweet chocolate chips
Pam spray
9×13 baking dish
Melt the butter over a large saucepan on low and add the marshmallows. Melt until smooth. Turn the heat off and add the peanut butter and blend until incorporated.
Pour over the rice cereal in a large bowl and with a large spoon, mix until all coated with the peanut butter, marshmallow mixture.
Spray your baking dish with Pam spray and pour the mixture into the pan and with your large spoon sprayed with Pam (to prevent sticking) spread out until all even and smooth. Let rest for 15 minutes to set.
Spread the Nutella all over the top covering the whole area of rice treats.
Sprinkle with choc. chips and salty peanuts and serve! Delicious and I do believe, a Jenny original.
Brock loved them…peanuts and all!