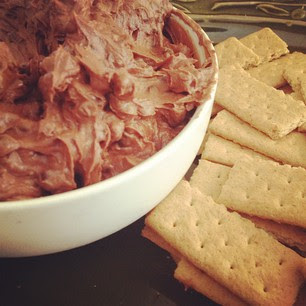 Yes you heard me right. And it's the best thing you'll eat.
What's better than eating batter. Batter of any kind, really. Cake batter, cookie batter and yes, brownie batter, are all on my favorite list to consume large quantities of.
I've even been known to shoo my kids away with their cute forefingers out to test my batters so I have enough for the pan.
And me.
I'm not being mean. I'm the baker. I have more privileges and that's a fact.
Let me tell you when to break out this batter dip: For your girlfriends.
This is perfect for when you and girlfriends totally disrespect the double dipping rule, drink hot coffee, and dissect why teenagers cause so much inner turmoil in our lives. And then cry, laugh, and cry again. This kind of fun food just brings out all of our inner feelings, our struggles…it's just what batter dips, do.
This dip is perfect for kids. Just make sure you grab a spoon and pile some on a plate for yourself before all the double dipping kiddos make their appearance. Something about a bunch of munchkins (that aren't mine) double dipping that make me totally lose my appetite.
This Brownie Batter Dip is a hit for anyone. Try it. It takes only seconds to make. (And to devour!)
8 oz CREAM CHEESE

1/2 cup BUTTER

2-3 cup POWDERED SUGAR — varies by desired consistency

5 Tablespoons FLOUR

5 Tablespoons COCOA POWDER

2 Tablespoons BROWN SUGAR

3+ Tablespoons MILK — varies by desired consistency

1 teaspoon VANILLA

1 bag of mini chocolate chips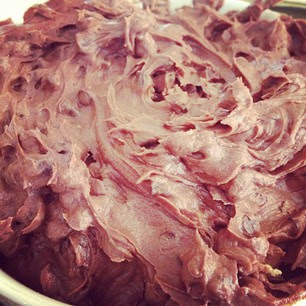 With a mixer, beat together the cream cheese and the butter. Add 2 cups of the powdered sugar, one cup at a time, and 1 tablespoon of milk until combined. Add the flour, cocoa powder, brown sugar, vanilla and 1 more tablespoon of milk if needed. Beat until smooth. Add remaining powdered sugar and milk alternately until dip reaches your desired consistency.