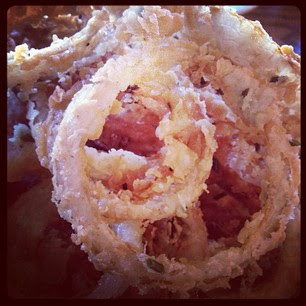 Oh my friends, these are so delicious!
Crunchy, tangy, everything you want in an onion ring…it's right here. I made these and topped some on our burgers and if that weren't enough had some on the side.
Absolutely amazing.
This, is why we don't eat out. The food is too good at home.
dipping in buttermilk and sour cream mixture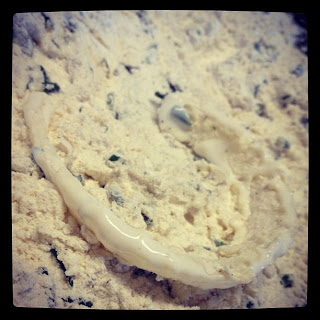 from buttermilk to herbed flour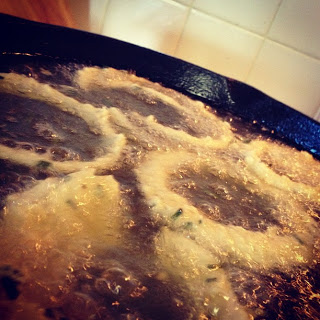 frying in all its glory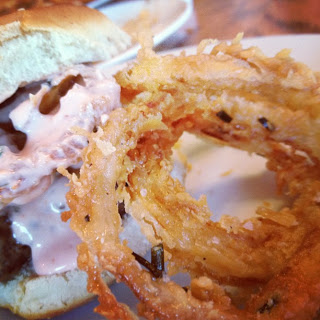 sitting quite nicely next to and on top of my burger with red ranch dressing
PRINT ME
Ingredients:


Vegetable oil, for frying
1 1/2 cups buttermilk
1/2 cup sour cream
1 yellow onion, cut not 1-inch thick slices an separated into rings
1 1/2 cups flour
1/4 cup finely chopped chives or scallions, whites and greens
kosher salt ans coarsely ground pepper


Serves 4
Make the onion rings: Pour a few inches of oil into a Dutch oven. Heat the oil to 350 degrees. (The oil is ready for frying when a 1-inch cube of white bread cooks to golden brown in 40 seconds.) Combine 1 1/2 cups buttermilk and 1/2 cup sour cream in a bowl and add the onion rings; soaks for a few minutes. On a plate, toss the four with the chives season generously with salt an pepper. Dip the onion rings in the seasoned flour then again in the buttermilk, and again in the flour. Fry 1 or 2 rings at a time in the hot oil, turning once, until deep golden, about 4 minutes. Transfer to a rack to cool. Sprinkle with kosher salt.


These will get gobbled up so fast you will have a hard time having any to serve with dinner!




Red Ranch Dressing. Perfect to dip and to top your burger:
1/2 cup buttermilk
1/2 cup sour cream
1/4 cup good-quality ketchup, such as Heinz Organic
1 large clove garlic, grated or pasted
3-4 tbsp. finely chopped mixed fresh herbs such as chives, parsley, and dill
1 tbsp. fresh lemon juice
Hot sauce
salt and pepper to taste


Mix all in a medium Mason jar and give a shake until all combined.


Yum!!


**Recipe adapted from my new favorite cookbook, my Rachael Ray: The Book of Burger
Bon appetite!