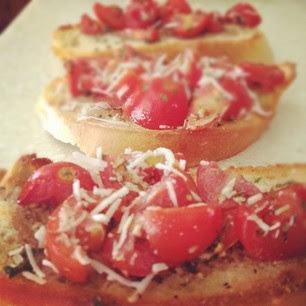 You know what's just as divine as Bruschetta?


Crostini.


What's the difference?


Well, that's exactly what I wanted to know and did a little research.


Interested?


Me too.


Let's take a look at the differences that I found over at YumSugar:

**Both bruschetta and crostini are Italian terms that relate to crispy bread. But what's the difference between the two of them?
Crostini translates to "little toasts" and generally refers to small pieces of bread that are baked. These toasts are then topped with a variety of ingredients like cheese, vegetables, meat, or seafood.
Bruschetta, on the other hand, is a larger piece of bread that is cooked over coals or a grill. Bruschetta can be rubbed with garlic and is traditionally served freshly charred. Like crostini, bruschetta can be topped with a wide range of items. **
It is my homemade white bread. And instead of rolling into two loaf pans, I rolled into two french bread loaves, and placed on a greased baking sheet. Baked off for the same amount of time as if they were in bread pans and viola… I had bread to make my Bruschetta!
This is so good. Is there anything more impressive than making a tomato, basil, and balsamic Bruschetta for family and friends?
But for this particular post a little drama never hurts, let's just say, NO!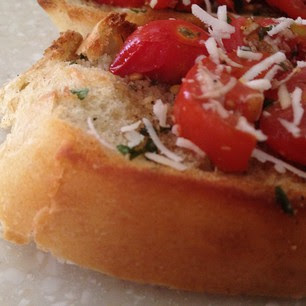 Make no mistake…This Bruschetta is a winner. And even if you don't want to make the bread yourself, this is easy, delicious, and impressive.
Serve this and you've made some new friends.
Now here's how you can make this, impressive Bruschetta:
French bread cut on a diagonal, drizzled with olive oil, dusted with salt and pepper and baked off in a 400 degree oven until toasty. About 8 minutes. Keep an eye on them!
Once out of the oven, take the peel off of one garlic clove and rub onto the warm toast. This imparts an amazing garlic flavor to all your toasts and prepare them for their toppings. (Of course you could devour them as is. Just sayin'.)
Green, grape, cherry and Roma. Cut into a small dice and place into a bowl.
Fresh Basil and/or Oregano
Cut into thin strips and toss in with your tomatoes.
Balsamic vinegar
Salt and pepper to taste
Toss tomatoes and herbs into a bowl and combine. Drizzle with just a little olive oil to coat and a couple splashes of vinegar and sprinkle with a little salt and cracked black pepper.
Once the toasts are ready, toasted with garlic rubbed on them, they are ready to be loaded with the toppings and delighted with fresh parmesan cheese.
Load and serve!
Place these on a beautiful platter. Serve with chilled wine.