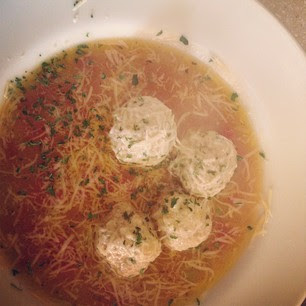 You know those kinds of meals that just feel like a cozy blanket?

Well, this is one of those meals.

It is so robust, so delicious, so easy, you will be making this one in the fall and winter…a lot!

I came up with this recipe when I was trying to eat lower calorie. The ground chicken was my go-to lower calorie option and quite frankly, it tastes better than beef to me. It is so good!

Billowy robust chicken meatballs, floating in an herbed broth, diced tomatoes, and topped with Asiago cheese. Please. The flavor profile is just plain nuts. I created a winner here, and you need to try this!

Fall is near, get to cooking-up this amazing soup to feed the soul…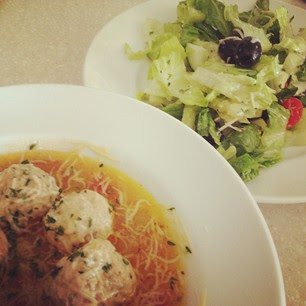 PRINT ME

Ingredients:

8 cups chicken stock
2 celery stalks, diced
1/2 onion, diced
parsley flakes
granulated garlic
salt and pepper to taste
Asiago cheese (I just grate over the pot until I've fulfilled my cheese love (about 1/4 cup).
1 28 oz. can of diced tomatoes seasoned with basil and garlic


**I've added kale to this recipe before and is absolutely delicious! Chop up a couple leaves and toss into the simmering soup. Divine!**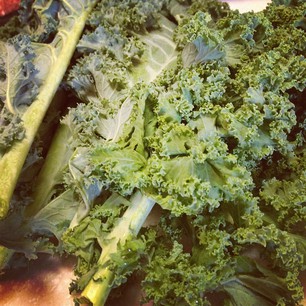 Introduce Kale to your family. It's delicious!
Meatballs:
2 lbs. ground chicken
3 tbsp. dried parsley flakes
1 cup bread crumbs
1 egg
1/2 cup Asiago Cheese
1 tbsp. granulated garlic
salt and pepper

In a medium stockpot, warm a couple tbsp. of olive oil and butter. Add your onion and celery and cook until translucent. Add your stock, herbs, tomatoes and bring to a boil. Taste as you go…checking for the need for more salt.

Meanwhile, prepare your meatballs. In a medium bowl, add your ground chicken, bread crumbs, egg, cheese, garlic, parsley, and about 2 tsp. of salt and pepper each. Combine with your hands until all the ingredients are fully incorporated throughout.

With wet hands (this keeps your hands from sticking to the meat) roll your meatballs into little 1-inch meatballs and plop into the boiling soup one by one. Bring back up to a boil and turn down to medium-high and let simmer until the meatballs cook through, about 20-30 minutes.

When the chicken meatballs are no longer pink in the middle they are done!

Ladle into bowls, sprinkle with more Asiago cheese, and some parsley flakes.

Enjoy! Serve with a side salad filled with cucumbers, tomatoes and black olives and drizzled with your favorite salad dressing.