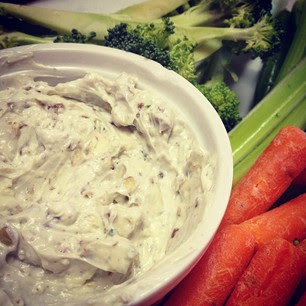 PPM for 2…blue cheese pecan dip
This is perfect for entertaining friends and it's a gourmet treat for you and your husband as an appetizer for dinner. I love preparing a gourmet appetizer to serve with wine for when my husband gets home before I feed the whole brood. This gives my husband and I some quality time for a moment eating something, you know, sophisticated. How many times do we cater to the family as a whole? Because we have to do this we usually make "safe" dishes. By making appetizers to eat with your husband before dinner, you're giving yourselves a chance to eat gourmet in your week. How fun is that?
This creamy dip is divine. The tang of the blue cheese, the crunch of the pecan. It's amazing! Serve a little white wine and you've got a wonderful appetizer.
Ingredients:
3 oz. softened cream cheese
Directions:
In a small bowl, beat the cream cheese, milk, sour cream, and blue cheese. Stir in the pecans and serve!