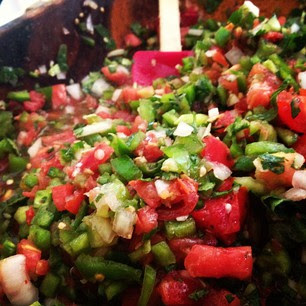 This is the perfect time to make this from all the veggies gathered from your garden. No garden? Fresh Farmers Market local produce will work, too. What makes it so wonderful is the fresh flavors. You can't help but dip a chip into fresh tomatoes, cilantro, bell pepper and garlic and then get that heat from the jalapeño. Your taste buds will love you…

To make this it's simple…so grab your fresh veggies, and your kids. We made ours a family affair and we had a fun time and made a ton! Each child had a vegetable to chop and I did the jalapeños!


Important information on chopping the jalapeños
**Wear sandwich bags on your hands when chopping jalapeños !! Do not get the oils onto your hands they will feel like your hands are on fire for hours. I speak from experience…a very bad experience. I will never do it again!**

Now where were we…ah yes, the ingredients

Ingredients:

I had a huge bounty and tripled this recipe. I poured into mason jars and gave some to some neighbors. This is a conservative amount.

3 large diced tomatoes
1 diced medium sized onion
3 bell peppers, seeded and chopped


1/4 bunch of cilantro (use more or less depending on your taste)




1 lime; juiced




1/2 teaspoon of minced garlic




1 tsp of salt




2 jalapenos (or more if you prefer it hotter) know that if you are using fresh from the garden jalapeños they will be considerably hotter than ones from the grocery store.
There isn't a magic science to this. Chop up your veggies, add as much or as little as you like, add your juice of your lime(s) add some salt to taste and you've got an amazing authentic Mexican salsa, my friends…
Have fun using your garden's bounty making this recipe and enjoy this recipe