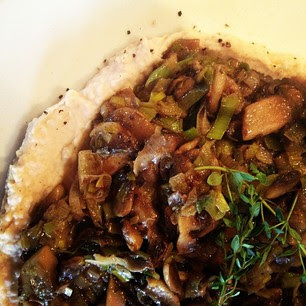 PPM for 2
An appetizer for you and your man before dinner with the fam!
This is the best appetizer in the whole wide world. It is delicious! And the best part? You can whip this up in under 30 minutes. I love these yummy delights that I can make for my husband and I, and over wine discuss the day before our main dinner is pulled out of the oven.

It's perfect!!

Make some, PPM for 2, part of your menu planning and you'll have not only the best time catching up on your day with your man, but you'll be able to try gourmet foods throughout the week that you normally wouldn't be able eat because of all the picky eaters…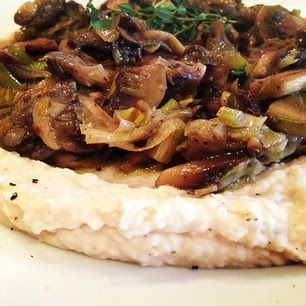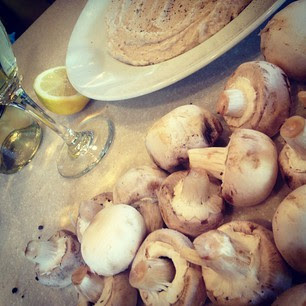 PRINT ME
Ingredients:

2 cans (14 ounces) cannellini beans, rinsed and drained
1/3 cup plus 2 tbsp. olive oil
1/4 cup tahini (sesame seed paste)
3 tbsp. fresh lemon juice
1 tbsp. chopped garlic
1 tsp. salt
1/2 tsp. black pepper
2 tbsp. unsalted butter
2 leeks, white and light-green parts only, thinly sliced
10 ounces assorted fresh mushrooms, thinly sliced
1 tbsp. fresh thyme leaves, plus more for garnish

In a food processor, combine beans, 1/3 cup of the oil, the tahini, lemon juice, garlic, 1/2 tsp of salt, and 1/4 tsp. of the pepper; process until smooth. Transfer to a platter.

In a large nonstick skillet, heat remaining 2 tbsp oil and the butter over medium-high heat; add leeks. Cook and stir for 6 minutes or until just golden. Add mushrooms, remaining 1/2 tsp salt and remaining 1/4 tsp. pepper and cook for 5 minutes or until mushrooms are softened, stirring occasionally. Stir in the 1 tablespoon thyme.

Top hummus with mushroom mixture. Garnish with additional thyme. Serve at room temperature.