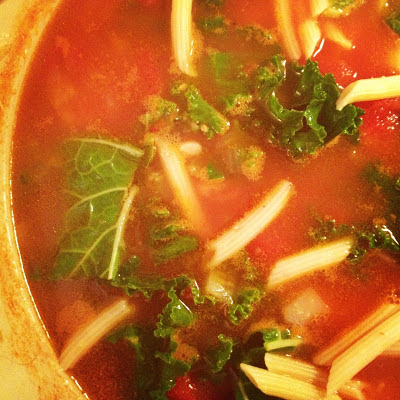 This soup screams the holidays because of its color. It is vibrant full of red and green. But of course, this soup can be served all fall and winter long. Shoot, serve it in the summer. I won't tell.

Rich and full of flavor, the broth is full of tomatoes, green and hardy kale, cannellini beans, yukon gold potatoes, fennel, and pasta, all with a hint of red wine vinegar. Absolutely delicious!

I love serving this to my family, girl friends, or just for lunch. It takes a whole 15 minutes to make. It will be your new go-to soup.

Serve with these amazing Parker House Rolls

Enjoy!

PRINT ME
Ingredients:
Serves 6-8
Adapted from, the Urban Spork

1/2 medium onion, diced
2 stalks celery, halved, and then cut crosswise into a dice
1/2 bulb fennel, cut into 1 inch pieces
2 medium yukon gold potatoes, peeled and cut into 1-inch cubes
2 cloves garlic, finely chopped
1 tbsp olive oil
1-35 oz. can whole tomatoes, lightly crushed
8 cups chicken stock
1-15 oz. can cannellini beans, drained and rinsed
course salt and freshly ground pepper
2 tsps. red-wine vinegar
1 1/2 bunches kale
2 cups short pasta, for serving
Freshly grated Parmesan or Asiago cheese, for garnish

Directions:

Heat oil in a large stockpot over medium high heat. Add onion, celery, fennel, potatoes and garlic. Cook, Stirring occasionally, about 5 minutes.

Add tomatoes and their juices, stock and cannellini beans; season with 2 tsps. salt and 1/2 tsp. pepper. Increase heat to high an bring to a boil. Reduce heat to a simmer and cook until potatoes are tender, about 10 minutes.

Stir in vinegar and kale; season with salt and pepper.

Prepare the pasta to al dente by following the directions included with pasta.

Divide the pasta evenly between bowls. Ladle soup over the pasta and garnish with cheese. Serve immediately.