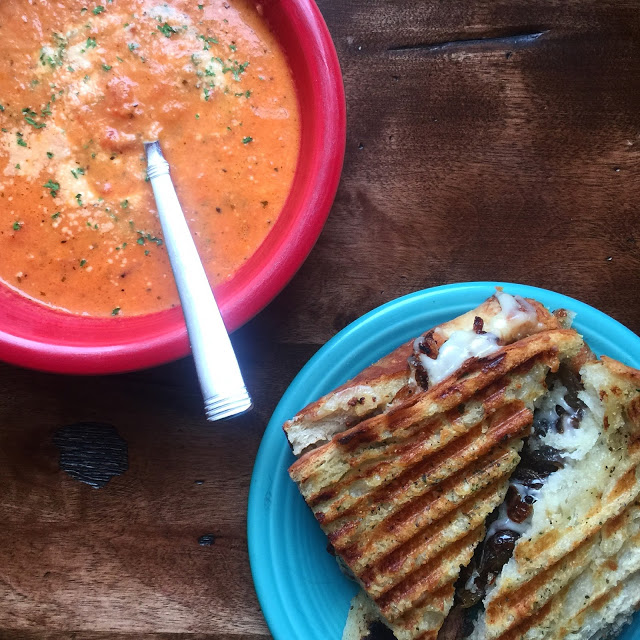 I love having lunch with my girl friends. I mean, hanging out and making exceptional food together and then eating like queens is what it's all about.

This lunch was so fun and delicious. Sydney, my son's girlfriend, and I share the same love for food and the sheer bliss of the preparation of it. We love it so much, we're pretty sure the world is going to see our cute faces on the Food Network in the near future. My show will be with a slew of kids in the backdrop with a toddler crying at my legs and Syd's show will be professional, fun and perfect. Both shows will be sure to entertain and inspire; you won't want to miss. I promise.

Ok, I digress… our lunch menu was a robust, roasted tomato soup and a caramelized onion and gruyere grilled cheese. The grilled cheese was even made with our rustic loaf bread, made from scratch. Um, yeah. So, whether you choose to forgo the rustic bread from scratch thing to make your lunch dreams come true or just use a rustic loaf from your nearest grocer, it will still be amazingly divine.

Enjoy the close friendships in your life. Prepare, eat and enjoy good food together, share a wonderful time and make some memories. It's what life's all about.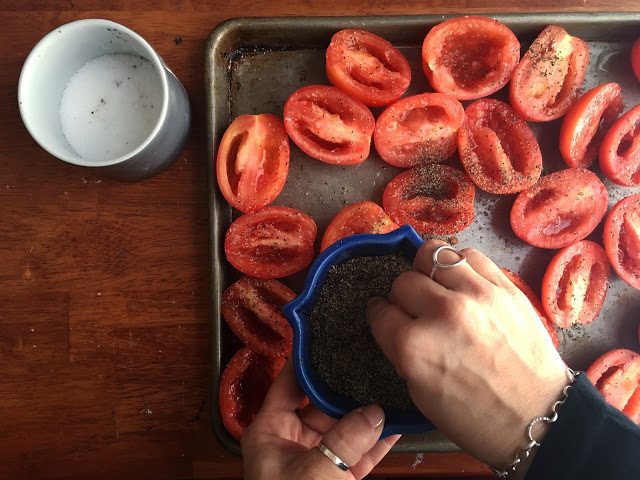 Roasted Tomato Soup:
3 lbs. ripe roma tomatoes cut lengthwise
2 cups chopped yellow onions
1/4 tsp. crushed red pepper
1 28-oz. can of tomatoes with their juice
4 cups fresh basil leaves, packed
1 tsp. fresh thyme leaves
Preheat your oven to 400 degrees F. Toss together the tomatoes, 1/4 cup olive oil, salt, and pepper. Spread the tomatoes in 1 layer on a baking sheet and roast for 45 minutes.
In an 8-quart stockpot over medium heat, saute the onions and garlic with 2 tablespoons of olive oil, the butter, and the red pepper flakes for 10 minutes, until the onions start to brown. Add the canned tomatoes, basil, thyme, and the chicken stock. Add the oven-roasted tomatoes, including the liquid on the baking sheet. Bring to a boil and simmer uncovered for 40 minutes. Using an emulsion blender, make smooth to your liking–we enjoyed having some yummy chunks in there too. Add your cream and blend until incorporated.
Ladle into bowls and top with julienned basil and parmesan cheese.
Click here for the caramelized onion and gruyere grilled cheese HERE