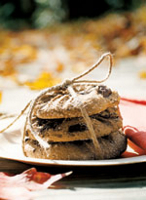 Chocolate Molasses Cookies
Makes 2 dozen
These are the most yummy, moist, fall cookies you'll eat. When I found these in Country Living I knew that I'd love them. The molasses imparts such a wonderful flavor and creates such a moist cookie. I love making these every fall, pack them in wax paper sacks, along with a thermos full of hot apple cider and take them with me to pumpkin patch with the kiddos.
Believe me, they'll be your new fall favorite!
21/2 cups all-purpose flour
1 tsp baking powder
½ tsp. Baking soda
¾ tsp. Salt
1 tsp. Cinnamon
½ tsp. Ground cloves
10 tbsp. Unsalted butter, softened
½ cup granulated sugar
½ cup dark brown sugar
1 large egg
1 large egg yolk
¼ cup molasses
1 tsp. Vanilla extract
1 4-ounce bar bittersweet chocolate, chopped into large chunks
(I used Nestle semi-sweet chocolate chunks)
Heat oven to 350 degrees.
Sift together the flour, baking powder, baking soda, salt, cinnamon, and the cloves into a medium bowl and set aside. Beat the butter, ¼ cup granulated sugar, and the dark brown sugar together, using an electric mixer set on medium speed, until light and fluffy—about 5 minutes. Add the egg and the egg yolk; mix to combine. Add the molasses and vanilla and mix thoroughly. Reduce the mixer speed to low and add the dry ingredients in 21 batches, mixing until just combined. Stir in the chocolate. Shape the dough into 2—tablespoon—ful balls, and roll each in the remaining granulated sugar. (I used sugar in the raw to roll them in and just added in the extra ¼ cup granulated sugar.) Place on cookie sheets and with a fork flatten slightly. Bake until lightly browned and firm around the edge—about 14 minutes. (I only baked mine at 8 minutes—and they came out soft and delicious. Fourteen minutes made them too crunchy of a cookie.)
Transfer to a rack to cool.
It is a wonderful fall cookie!