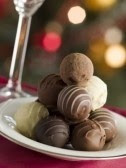 Cookie Dough Truffles
Is there anything better than chocolate chip cookie dough? This recipe is amazing, and I make it for the holidays every year—but you could make it for any occasion. These make great Christmas gifts too. I buy cute small boxes (found in hobby stores) and fill it with tiny paper cupcake holders that fit these amazing truffles perfectly. Or I have served them in my home for guests on a cake pedestal. No matter how you serve these, people will be begging for more.
Always remember to keep these chilled and not to leave out for too long as they do get soft.
½ cup butter, softened
½ cup firmly packed brown sugar
¼ cup sugar
¼ cup thawed egg substitute
1 tsp. vanilla extract
1 ¼ cups all-purpose flour
1 cup miniature semisweet chocolate morsels
¾ cup chopped pecans (optional)
1 12-ounce package semisweet chocolate morsels
1 ½ tablespoons shortening
Beat butter at medium speed until creamy; gradually add sugars, beating well. Add egg substitute and vanilla; beat well. Add flour to butter mixture; beat well. Stir in miniature chocolate morsels and chopped pecans. Cover and chill 30 minutes.
Shape mixture into 1" balls, I use my cookie sheets to lay them out on, and freeze until very firm.
Place 12-ounce package morsels and shortening in a bowl and melt in microwave for about 1 minute. Keep checking and stirring until all incorporated. I use two forks, and quickly dip frozen truffles into melted chocolate, coating completely. Place on wax paper to harden. Store in refrigerator in airtight container.
Makes 4 ½ dozen.