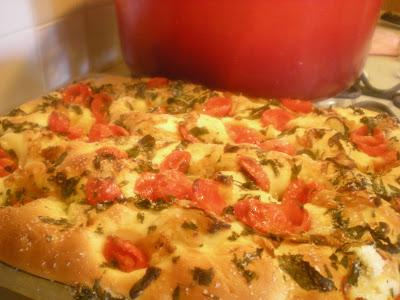 Tomato Basil Focaccia
This makes an amazing dinner for sandwiches, or along side a salad. It's one of those fun foods I love making if I'm having the girls over for lunch. My favorite, basic focaccia recipe is from Williams-Sonoma's, Essentials of Baking. Then I top with what I feel like. For dinner in this photo, I caramelized some onions and layered all over the top, added chopped tomato, and fresh basil, oregano and thyme. And lastly…sprinkled with kosher salt. Amazing!
Basic focaccia:
www.PlannerPerfect.com
Ingredients:
2 pkgs. active dry yeast
1 3/4 cups warm water (105-115 F)
1 tsp. sugar
3/4 cup extra virgin olive oil
5 cups all-purpose flour, plus extra for kneading
2 tsp. fine sea salt
1 tsp. course kosher salt
In your mixer bowl, dissolve the yeast in the warm water and let stand until foamy, about 5 minutes. Add the sugar, 1/2 cup of the olive oil, the flour, and the fine sea salt. Place the bowl on the mixer, attach the dough hook, and knead on low speed, until the dough is smooth and elastic, 5-7 min. Add up to 1/2 cup flour while kneading to prevent the dough from sticking, Remove the dough from the bowl.
Form the dough in to a ball, transfer it to a lightly oiled bowl, and cover the bowl with plastic wrap. Let the dough rise in a warm, draft-free spot until it doubles in bulk, 1-1/2 hours. For a more flavorful bread, make the dough up to this point, punch it down, cover the bowl with plastic wrap, and refrigerate overnight. Let the dough come to room temperature before shaping.
Pour the remaining 1/4 cup oil evenly into a half-sheet pan. Turn the dough out into the pan. Press the dough evenly into the pan. If it is too elastic to spread without springing back, let it rest for 5 minutes. Cover the pan loosely with a dry kitchen towel. Let the dough rise in a warm, draft-free spot until it doubles in size, about 1 hour.
Position a rack in the lower third of the oven, and preheat to 450 degrees. Dimple the dough by pressing your fingertips all the way into it at 1-inch intervals over the entire surface. Sprinkle it with the couarse salt, if desired.
Bake the focaccia until golden brown, 20-30 minutes. Transfer to a wire rack and let cool in the pan. Cut it into squares and serve warm or at room temperature. Store tightly wrapped in aluminum foil at room temperature for up to 1 day or freeze for up to 2 weeks. Reheat at 375 F for 10 min.
For Caramelized Onion, Tomato, Herb Focaccia:
Heat a couple tbsp. of olive oil in a medium cast iron skillet. Thinly slice one onion and add to the pan along with 1/2 tsp.salt and fresh cracked pepper. Cook over medium heat until softed. Turn heat to medium low and let cook until lightly browned and caramelized.
While onions caramelize, quarter 8 Roma tomatoes and over colander and water, squeeze the pulp out of the tomatoes, sprinkle kosher salt and let sit for about 15 minutes. Rinse with cool water.
Fresh herbs. A handful of each: basil, oregano, thyme. Chop the herbs
Before the focaccia goes into the oven, place the caramelized onions over the top of the dimpled bread, with the tomatoes, fresh herbs and sprinkle kosher salt. Bake and enjoy! Your kitchen will smell like a pizzeria. It's simply amazing.
Remember when planning your menu, if this focaccia is something you want to make, plan and write it down as part of your menu with all the ingredients you'll need, so you are prepared on the day you'll bake it.