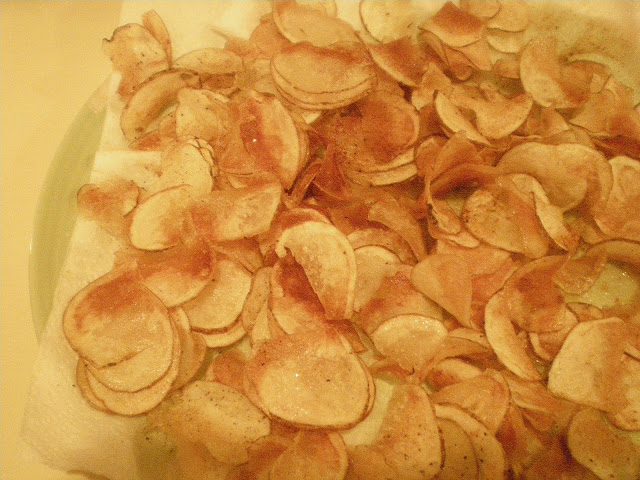 I've always wanted a mandolin because I dreamed (I really did) of making my own potato chips. The price of the big ones was something I wasn't willing to purchase, which was around $40. Plus the fact that I don't like collecting a lot of appliances…they take up too much space. But I did buy a handheld one, only $19 and I love it! It only took about 4 large Idaho potatoes to feed my large family of 9. It was awesome, from the making of them to the eating. This is a must to make, your kids, and you, will will love it.
Makes enough for 9 people
Ingredients:
4 Idaho potatoes
mandoline
salt, cracked black pepper, garlic salt
Tools you'll need:
a spider, which is what chefs call a wire mesh strainer for removing the cooked fries form the oil.
A tall heavy-bottomed stockpot
peanut oil or canola works just fine
fry themometer
When frying these potato chips you'll want to make these thin–about 1/8 of an inch. After slicing, put in a bowl of cold water and let soak for at least an hour and up to 8 hours.This pulls the starch out of the potato and keeps them from sticking together when they fry. Make sure you dry these well onto a paper towel before frying. Water and oil do not mix and could boil violently and burn you. So be careful to dry well.
Put oil in your pot and let warm to 375 degrees. Place the potatoes in the pot using the spider and moving them around to keep separated. These only cook for about 3-5 minutes. Using the spider, take out and let excess oil drain onto a large plate lined with paper towels. Sprinkle immediately with salt, pepper and a little garlic salt and you've got the best potato chip around. Have fun with the seasoning here, you could make barbecue flavor, dill, the sky is the limit. I know you'll have a lot of fun making these as much as I did.