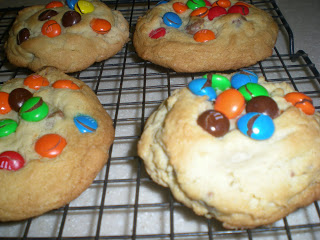 Monster Chocolate Chunk M&M Cookies
Ingredients:
4 sticks butter
11/2 cups sugar
11/2 cups brown sugar
4 eggs
2 tsp. baking soda
2 tsp. salt
3 cups unbleached white flour
2 cups whole wheat pastry flour (This gives great texture to the cookie but can always be subbed out for unbleached flour)
2 bags Guittard chocolate chips
M&Ms on top (optional)
1 cup pecans (optional)
Beat:
Butter and sugars together until light and fluffy.
Add the eggs one at a time until whipped.
Combine:
flours
baking soda
salt
Add to the wet ingredients until just combined
Stir in the chocolate chips
Using an ice cream scoop, place 6 to a cookie sheet and bake in a 350 degree oven for 10 minutes or until the tops or slightly golden brown.
If want M&Ms too, I like to put a small amount into the palm of my hand and flip onto the top of the scooped dough balls on the cookie sheet. It gives it a pretty look and tastes out of this world!