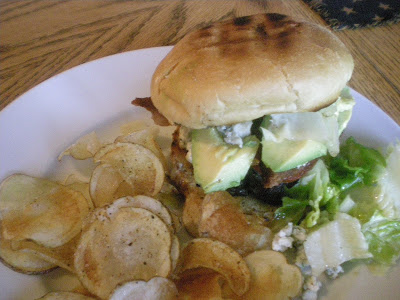 This hamburger was an inspiration of Bobby Flay (my hero). This is no ordinary burger. It is cooked over a charcoal grill, topped with melted bleu cheese, crispy bacon, beef steak tomatoes with a little kosher salt and cracked black pepper, avacados, and dressed greens. All on a toasted hamburger bun with homemade chips…move over Red Robin, this burger's got you beat!

Makes 8 hamburgers
printable recipe

Ingredients for the burgers:
3 lbs. ground sirloin or chuck (85% lean)
salt and pepper
bleu cheese
Make into 8 nice size hamburger patties and season with salt and pepper both sides. Grill until your liking and top with blue cheese, move off the flame and put the grill lid down to melt the cheese.

Dressing:
1 garlic clove finely chopped
2 tbsp. apple cider vinegar
1 tsp. of Dijon mustard
1 tsp. of Worcestershire sauce
1/4 cup olive oil
salt and pepper to taste
Add these into a small bowl, whisking in the olive oil in a slow steady stream so as to be fully incorporated.

Toppings:
2 beef steak tomatoes
2 large avocados, halved, peeled, and siced
blue cheese for garnish
2 heads of romaine lettuce, chopped
5-8 slices of cooked bacon

While the burgers are on the grill, cook your bacon, cut your tomatoes into slices and season with salt and pepper, make your dressing, and pour over your chopped greens, slice your avocados.

Place burgers on top toasted bun and top with tomato, bacon, avocado, dressed lettuce and more blue cheese as garnish. Top with bun top and with one bite, you'll see what I'm talking about. It's amazing!