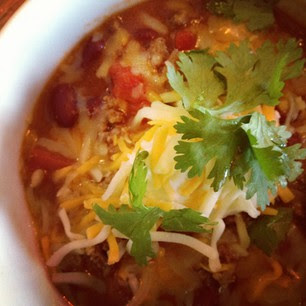 It's that time of year!

Chili.

Is there anything quite as wonderful as fall chili? I make this very often when the weather starts to get cold. My family can't get enough. A little dollop of sour cream, a few sprigs of cilantro, a heaping mess of shredded cheddar, and a big bowl full of tortilla chips for dipping. This fall favorite was something I came up with using familiar ingredients and when I got it right I never looked back.

Let me reassure you…it's a crowd pleaser! Thick, just the right amount of spice, and absolutely delicious.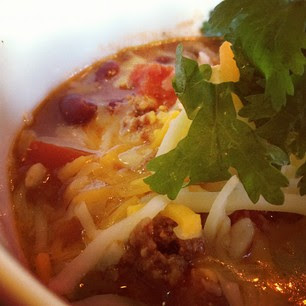 Instructions:
2lbs. Ground beef
1 onion, diced
1 red or yellow bell pepper, diced
1 jalapeno, seeded, and diced
2 garlic cloves, minced
3 tbsp. Chili powder
1 tbsp. Ground cumin
2 cans tomato puree
1 can diced tomatoes
1 cup water ( I like my chili thick and usually omit the water)
1 can kidney beans
salt and pepper to taste

Brown the beef and the next 4 ingredients. Drain and then add remaining ingredients. Bring to a boil and then simmer for half-hour.

Or…put in crock pot and put on low for the day!!

Enjoy friends…