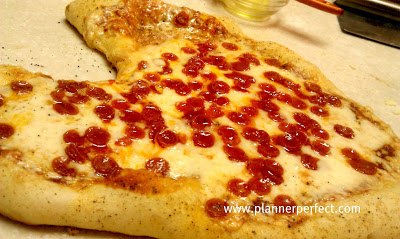 printable recipe
Ingredients:
1 1/2 cups warm water
1 pkg. active dry yeast
1 tsp. sugar
4 cups all-purpose flour
1/2 cup vegetable oil
1 tsp. salt


In a large mixer bowl, combine the water, yeast, and sugar and stir to combine. Let sit until the mixture is foamy, about 5 minutes.
Add 2 cups of the flour, 1/2 cup oil, and the salt, mixing by hand until it is all incorporated and the mixture is smooth. Continue adding the flour, along with herbs and garlic (I use basil, oregano, thyme, and garlic powder–just small palm-fulls of each.) 1/4 cup at a time, working the dough after each addition, until all the flour is incorporated but the dough is srill slightly sticky.


Turn the dough out onto a lightly floured surface and knead until smooth but still slightly tacky., 3-5 minutes. Oil a large mixing bowl with the remaining 2 tsp. oil.
Place the dough in the bowl and turn to oil all sides. Cover the bowl with a towel and set in a warm, draft-free place until nearly doubled in size, 1 to 1 1/2 hours.
Divide into 2 equal portions and it's ready to use!


Shape this Valentine's pizza into a heart with your hands. Just roll out into a circle, cut a little "v" shape out at the top with a knife and perfect the shape. Place on a pizza peel dusted with cornmeal, top with your favorite toppings, and toss onto your hot pizza stone.
**works just as well placed on a greased baking sheet and placed in a rack in your oven set at 425 degrees**
I've added herbs and garlic to this crust which gives it lots of flavor. I've also tried this with white whole wheat flour if this interests some…it works wonderfully.
I like to throw this on my pizza stone fully topped and with a pastry brush and little olive oil, brush the dough with the olive oil–it helps create that crispy crust.
Bake at 425 degrees if using a pan…if a stone–I like it hot at 500 degrees