The 4th of July has come and gone…but it's never too late to share great recipes! Here are some of my recipes that I entertained with over the 4th with family and friends. I hope these give you ideas for the rest of your summer or for next year's 4th of July menu.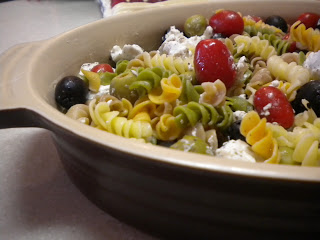 Pasta Salad:
printable recipe
This pasta salad is wonderful. My mom has been making this for a long time. I added the goat cheese and I think that it adds great depth of flavor. You'll want to make this all summer long.
Ingredients:
1 bag of spiral, vegetable pasta noodles
1 6 oz. can of black olives
1 cup of green spanish olives
2 celery stalks with leaves, chopped
1 pint grape tomatoes, whole
3/4 cup crumbled, herbed goat cheese
3 tbsp.olive oil
3 tsp. apple cider vinegar
salt and fresh cracked pepper
Preperation:
cook the pasta in salted boiling water until al dente about 7-9 minutes
Drain in colander and rinse noodles with cold water. Shake out water and put in a serving bowl.
Add the rest of the ingredients, toss and enjoy.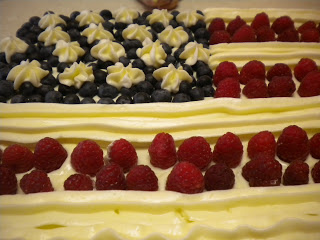 Once again, Ina Garten pulls through again with another winner. I absolutely love the taste of this cake. It is almost like a pound cake in texture (not to mention it is loaded with butter!) so moist and the frosting is a cream cheese frosting, topped with berries to make the markings of our flag. This could be made all year round, topped with fruit, just not made into the flag. I know you'll love this one!
Flag Cake
Ingredients:
serves 20-24
printable recipe
18 tbsp. unsalted butter, at room temperature
3 cups sugar
6 extra-large eggs, at room temperature
1 cup sour cream, at room temperature
1 1/2 tsp. pure vanilla extract
3 cups all-purpose flour
1/3 cup cornstarch
1 tsp. kosher salt
1 tsp.baking soda
For the icing:
1 pound (4 sticks) unsalted butter, at room temperature
1 1/2 pounds cream cheese, at room temperature
1 pound confectioners sugar, sifted
1 1/2 tsp. pure vanilla extract
To assemble:
2 half-pints blueberries
3 half-pints rasberries
Heat the oven to 350 degrees. Butter and flour and 18x12x1 1/2-inch sheet pan.
Cream the butter and sugar in the bowl of an electric mixer fitted with the paddle attachment on high speed, until light and fluffy. On medium speed, add the eggs, 2 at a time, then add teh sour cream and vanilla. Scrape down the sides and stir until smooth.
Sift together the flour, cornstarch, salt, and baking soda in a bowl. With the mixer on low speed, add the flour mixture to the butter mixture until just combined. Pour into the prepared pan. Smooth the top with a spatula. Bake in the center of the oven for 20-30 minutes, until a toothpick comes out clean. Cool to room temperature.
For the icing, combine the butter, cream cheese, sugar, and vanilla in the bowl of an electric mixer fitted with the paddle attachment, mixing just until smooth.
Spread three fourths of the icing on the top of the cooled sheet cake., Outline the flag on the top of the cake with a toothpick. Fill the upper left corner with blueberries. Place 2 rows of raspberries across the top of the cake like a red stripe. Put the remaining icing in a pastry bag fitted with a star tip and pipe two rows of whit estripes below the raspberries. Pipe stars on the top of the blueberries.
Is there anything better than smoked, pulled pork, covered in a homemade sweet and sassy, barbecue sauce, covered in coleslaw and topped with a white bun…? My husband is the smoker. Smoker of meat that is, and he does an amazing job. The one we bought was 7 lbs. and fed 16 people. We smoked it over hickory and pulled it apart to make big, shredded chunks. If you don't have a smoker, you can do it indoors. Preheat your oven to 275 degrees and roast, fat side up for 6-7 hours. Let rest for 15 minutes before pulling apart.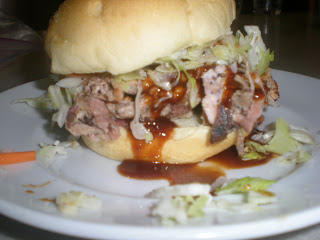 Coleslaw:
I use the bagged, ready coleslaw…makes it easier.
printable recipes
Ingredients:
2 bags coleslaw
1/4 cup olive oil
3 tbsp. apple cider vinegar
1 tsp. celery seed
salt and pepper to taste
Put the coleslaw in a bowl and add the rest of the ingredients, mixing with tongs. Taste and adjust seasonings. I love the creamy coleslaw, but my husband won't get near mayo. So, I've made a vinaigrette version to make him happy. I think you'll like the contrast of the pulled pork with the sassy taste of the coleslaw.
Enjoy!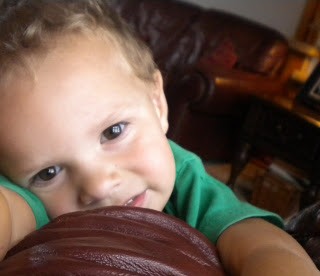 Homemade sweet and sassy barbecue sauce
I found this one on the web and we love it! It's by Dorothy Ross and it was featured in Taste of Home magazine. It is so simple to make, I recommend doubling the recipe because it goes fast!
Prep time: 15 min. Cook time: 15 min. Ready in: 30 min.
makes 32 servings
printable recipe
Ingredients:
1 cup packed brown sugar
1 cup ketchup
1/2 cup water
1/2 cup apple cider vinegar
1/2 cup chopped onion
1/2 cup corn syrup
1/2 cup molasses
1/2 can (6 oz.) tomato paste
1 tbsp. Worcestershire sauce
1-1/2 tsp. garlic pepper blend
1-11/2 tsp. liquid smoke (optional)
1-1/2 tsp. prepared mustard
1/2 tsp. onion salt
1/2 tsp. celery salt
Directions:
In a large sacuepan, combine all ingredients. Bring to boil. Reduce heat; simmer, uncovered, for 15 minutes or until the flavors are blended. Remove for the heat and cool.
I keep mine in a mason jar.