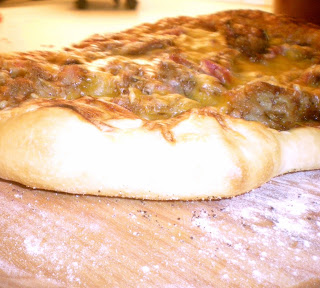 pizza is so good and it's even better when you use homemade barbecue sauce, leftover, pulled pork and some creamy, monterey, pepper jack cheese. You can grill your crust or just pop in the oven. Either way, this pizza is out of this world. When we smoke out our pork butt, I always make sure I have the ingredients on hand to make a pizza out of the leftovers. Remember planning your meals, make it simple!
printable recipe for crust, bbq sauce, pork and assembly
Pizza Crust:
printable recipe
Ingredients:

1 1/2 cups warm water
1 pkg. active dry yeast
1 tsp. sugar
4 cups all-purpose flour
1/2 cup vegetable oil
1 tsp. salt

Preparation:

In a large mixer bowl, combine the water, yeast, and sugar and stir to combine. Let sit until the mixture is foamy, about 5 minutes.
Add 2 cups of the flour, 1/2 cup oil, and the salt, mixing by hand until it is all incorporated and the mixture is smooth. Continue adding the flour, along with herbs and garlic (I use basil, oregano, thyme, and garlic powder–just small palm-fulls of each.) 1/4 cup at a time, working the dough after each addition, until all the flour is incorporated but the dough is still slightly sticky.
Turn the dough out onto a lightly floured surface and knead until smooth but still slightly tacky., 3-5 minutes. Oil a large mixing bowl with the remaining 2 tsp. oil.
Place the dough in the bowl and turn to oil all sides. Cover the bowl with a towel and set in a warm, draft-free place until nearly doubled in size, 1 to 1 1/2 hours.
Divide into 2 equal portions and it's ready to use!

Homemade sweet and sassy barbecue sauce

I found this one on the web and we love it! It's by Dorothy Ross and it was featured in Taste of Home magazine. It is so simple to make, I recommend doubling the recipe because it goes fast!

Prep time: 15 min. Cook time: 15 min. Ready in: 30 min.
makes 32 servings
printable recipe

Ingredients:
1 cup packed brown sugar
1 cup ketchup
1/2 cup water
1/2 cup apple cider vinegar
1/2 cup chopped onion
1/2 cup corn syrup
1/2 cup molasses
1/2 can (6 oz.) tomato paste
1 tbsp. Worcestershire sauce
1-1/2 tsp. garlic pepper blend
1-11/2 tsp. liquid smoke (optional)
1-1/2 tsp. prepared mustard
1/2 tsp. onion salt
1/2 tsp. celery salt

Directions:

In a large saucepan, combine all ingredients. Bring to boil. Reduce heat; simmer, uncovered, for 15 minutes or until the flavors are blended. Remove for the heat and cool.

I keep mine in a mason jar.

Pulled Pork:
We smoked our pork butt on our smoker over hickory and pulled it apart to make big, shredded chunks. We seasoned it with a mixture of, about a tbsp of each: paprika, garlic salt, chilie powder, salt and pepper. Toss all the seasonings in a small bowl to combine and rub into the pork. If you don't have a smoker, you can do it indoors. Preheat your oven to 275 degrees and roast, fat side up for 6-7 hours. Let rest for 15 minutes before pulling apart.

Assembling the pizza:




If grilling out your pizza crust:




Roll out your dough and brush with olive oil. Lay on the hot grill and close the lid for about 3 minutes until slightly risen. Using a large grill spatula, carefully flip the pizza dough over, and layer on your toppings. Barbecue sauce, pulled pork bits, and your cheese (caramelized onions would go nicely on top, too) and close the lid for about 3-4 minutes. Just enough to warm through and melt the cheese and rewarm the meat. Using your spatula, take off and place on a large baking sheet.

In the oven:
I preheat my oven to 500 degrees if using my pizza stone, but if using a pizza pan, preheat your oven to 425 degrees. Cook for 12-15 minutes until bubbly, puffed and golden brown.

Viola! Amazing barbecue pizza. I know your family will enjoy this one!