Fluffy, flaky, and absolutely delicious! Easy and simple to make, this will be a new family favorite for breakfast or anytime!
Try my bacon and cheddar biscuits, they're just as amazing!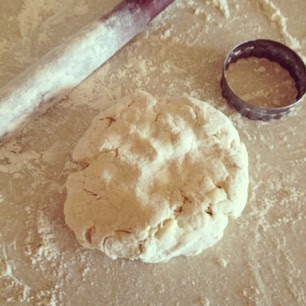 1 cup butter, cold, cut into ½ inch pieces
1 ½ to 2 cups buttermilk, plus additional for brushing
Preheat the oven to 375 degrees
This is simple to make when you plan for it and I plan for it in my grocery list. I always write out, aside from my dinners for the week, the breakfasts, lunches and what desserts I want to make, too. That way it is planned in advance and I will have the ingredients I need.
Sift together the flour, salt, baking powder, and baking soda. Cut in the butter using a pastry blender or your hands until the mixture resembles coarse crumbs. Make a well in the center and add one cup buttermilk. Using your hands, quickly fold the dry ingredients into the buttermilk until sticky dough forms. You may need to add more buttermilk just add a little at a time until your day comes together.

Turn the dough out onto a floured surface. Gently fold the dough over itself 3 or 4 times to create layers. Press the dough out to 1 ½ inches thick and cut with a floured 3-inch biscuit cutter. Lay the biscuits on an ungreased cookie sheet and brush the tops with buttermilk. Bake for 20-25 minutes until risen and golden brown.
This is one of are all-time favorite Tyler Florence recipes. It is a Penton staple. The only thing I have changed up was the butter in place of his shortening. The taste is much better with butter not to mention healthier. I also have always used just the top of a glass to cut my biscuits in place of a biscuit cutter. But pretty biscuit cutters are nice to have.:)
Baking Day, make-and-freeze instructions: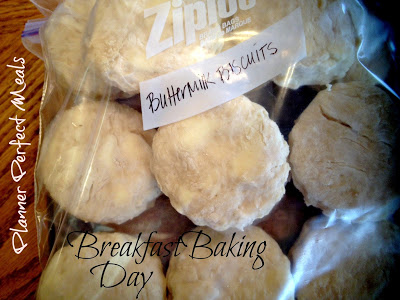 To make these for later on the quick, simply make the buttermilk biscuits, placing on a baking sheet and freezing for about an hour until frozen.

Freeze individual frozen biscuits in a labeled Ziplock freezer bag until ready to eat!

To bake:
Simply take out the frozen biscuits needed and place on a baking sheet and bake frozen in a 375 degree oven for about 12-15 minutes until fluffy, flaky and golden brown. Serve with sausage and eggs for a quick and easy healthy breakfast any day of the week!

Find out how to create a Breakfast Baking Day to create delicious healthy breakfast all week long quick and easy!