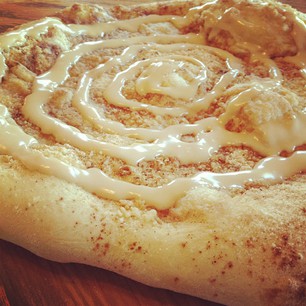 Do you ever go to Godfather's Pizza buffet and rush, shoving all of your gazillion kids out of the way, to make sure at the end of your meal you get their dessert pizza?

You know, the one that is loaded with streusel and icing over a delicious sweet, cinnamon crust?

That's the one.

I don't need to rush anymore, tripping, making my kids cry that I took the last piece.

In fact. I don't see the need to go to Godfathers at all.

I have made the exact replica with my own pizza crust and you are going to want to make this for your family. Today.

By simply using your own pizza dough and baking it off for just a couple minutes, you can make this delicious treat in a snap. On my pizza days, I make extra dough for the dessert pizza. Bake it off for 2 minutes, add the toppings and then bake in the oven for 7 minutes.

This homemade dessert pizza is gourmet, is very addicting, and I make enough for my children. If you have obsessive dessert pizza problems like me, I suggest you do the same.

Use my pizza dough recipe, It is splendid!

printable recipe

Ingredients:
1/4 cup melted butter
1 tbsp. cinnamon

streusel topping:
1 2/3 cup bread flour
2/3 cup white sugar
1/4 cup brown sugar
1/3 cup cold butter, cubed

Icing:
2 cups powdered sugar
2 tbsp.cream
splash of vanilla


On a partially baked pizza crust, pour the melted butter over the crust, brushing to get the whole pizza. Sprinkle the cinnamon all over the melted butter.
For the streusel topping…in a medium bowl, combine the flour, white sugar and brown sugar and then add the cubed butter. Using a pastry cutter, integrate the butter throughout the flour and sugars. It will look lumpy (and like flour), don't worry…it turns out amazing.

Put in a hot, preheated oven at 490 degrees for 7 minutes. After 5 minutes if it looks like the top is too brown, lay a piece of foil over the top for the remaining 2 minutes.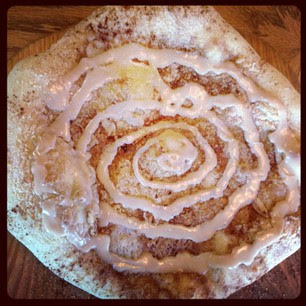 For the icing:
In a large bowl, combine powdered sugar, cream, and vanilla and stir until you have a fairly thick consistency. Adding more of either the powdered sugar or cream to get it. Put in a quart-size bag, zip shut, pushing out any air out of the bag. Squeeze over to one corner and snip off the tip.

Once pizza is out, using your homemade pastry bag, drizzle the icing with zigzag lines across the top of the hot pizza. Cut into pizza slices and serve immediately. Keep any leftovers (if any) wrapped in plastic wrap on your counter at room temperature. Tastes especially good at breakfast!

Enjoy!