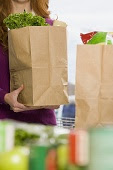 Planner Perfect Meals is all about being prepared and taking a different look at your kitchen. If you don't like to cook or bake I hope to inspire you! We all have to eat, so let's embrace it…here are some ways you can plan your way into a delicious gourmet:
Plan your meals for the week
In your planner, pick a day out of the week that you want to go grocery shopping. Don't just pick any grocery store. Pick one that you really enjoy being in and has good produce, and if eating organically is something you're passionate about, that there health market is well stocked.
Next, get inspired on what to prepare for your family. Follow your own taste buds, look through your favorite cookbooks, or try some of my recipes that are tried and true. Don't forget to look at your week in your planner life planner and let your week inspire what foods to prepare. Are the kids going to be busy at the dinner hour? Prepare something healthy and fast. Is it a rainy week? Make some soups and homemade crusty bread. If it's sunny and beautiful out… light the grill!
I write out the days of the week and the dinner menu next to it. I then start making lists of what I need according to the layout of the grocery store. For examples on grocery lists and meal planning–check out life planner.
Plan baking days
I love to incorporate baking days in my week. The kids like it, too! I'll plan different baked goods each week, such as: crusty breads, sandwich bread, and quick rise breads. I also bake up large batches of cookies and freeze some of the dough. Pizza dough is another one that I love to make large batches of and freeze to make pizza for lunches during the week. Planning a baking day in the week and incorporating it into your grocery list ensures you have all you'll need to bake amazing homemade goodies without having to run out to the store. Now that's Planner Perfect! e-book on life planning