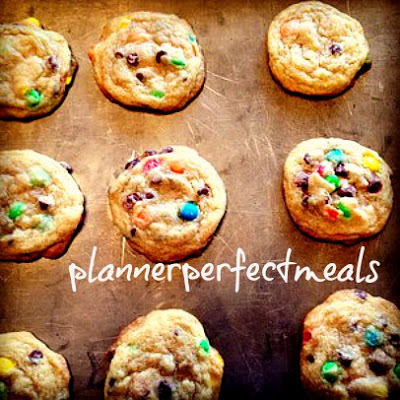 I love baking cookies.

There is just something about them that makes everyone so happy!

When I was a teenager I remember making cookies under the guise of "helping" just to eat the dough and leave whatever was left of the dough for my mom to finish, and a mess in the kitchen to boot. I am still a dough lover and I am quite obsessed with making the perfect cookie. This time, I'm interested in the cookies, too. I am pulled to my mixer once a week to throw a batch together to make the best cookie I can make. My children love this obsession of mine and who could blame them. I always have my coffee pot brewing a fresh pot for me and time it right when I'm putting in my first batch. Ahhh, nothing beats hot coffee and homemade cookies, fresh out of the oven!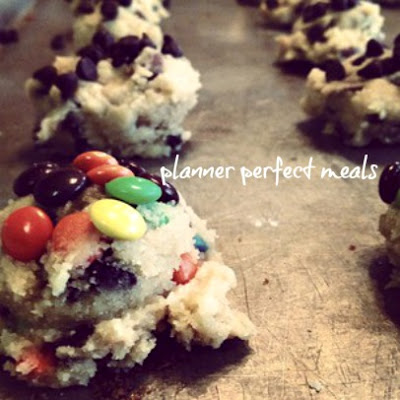 mini m&m cookies and my mini chocolate chip ready for the oven

I have tweeked and retweeked and have my favorites down pat. My staples in the house are my monster chocolate chip cookies. They are insane! They are loaded with monster chocolate chips, moist, yet have a slight crisp on the exterior. One bite of my cookies and you'll be hooked! What makes these cookies so darn good?

The secrets are in the chocolate and the delicate balance of the butter and flour. Some say the use of shortening helps create a fluffier cookie that won't splat out. This is true, but I don't like the trans fat or the taste. I have tried the all-natural shortening varieties and it just is not the same. So, I decided to use all butter and just add more flour until I have a fairly thick dough…and it worked! Fluffy, crispy, chewy and decadent! The perfect chocolate chip cookie.

Try it out for yourself…you'll see what I mean.

Adapted from the Nestle Toll House Recipe

Preheat your oven to 375 degrees

PRINT ME
INGREDIENTS:
2 sticks butter, softened
3/4 cup granulated sugar
3/4 cup brown sugar
2 eggs
1 tsp. vanilla
1 tsp. baking soda
1 tsp. salt
2 1/2 cups flour
1 bag of mini M&Ms
1/2 bag of mini chocolate chips

DIRECTIONS:
Cream together your butter and sugars in a stand mixer until nice and whipped. Add eggs one at a time mixing between each egg addition. Add your vanilla and mix well. Add the dry ingredients and mix until all incorporated. Add your M&Ms and mini chocolate chips and stir in with a wooden spoon.

Spoon onto an ungreased cookie sheet with a large ice cream scoop for monster cookies or just little cute cookies using a regular cookie scooper. Bake for approx. 8 minutes for small cookies and 12 minutes for the monster cookies and nice and golden brown.