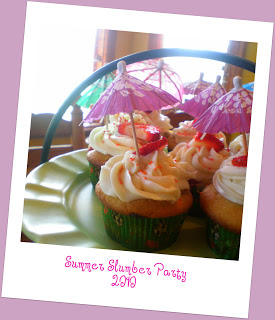 A Cupcake Slumber Party
As a last hurrah to summer, I threw a big slumber party for my girls. There were balloons, grilled sliders, plenty of chips, and of course…cupcakes. These cupcakes are a white, moist cake with strawberries chopped into the batter. The frosting is a cream cheese frosting, topped with a strawberry and umbrella. Delicious!
Slumber Parties are doable with a plan. Plan out the look of your party with its decore and theme. Next is your menu and the guests. Write down what you need to buy earlier in the week to be prepared and organized. Planner Perfect is a tool that harness party planning, beautifully. Click here for more information.
White, strawberry cupcakes with cream cheese frosting
makes 12 cupcakes
printable recipe
Ingredients:
1/4 pound (1 stick) unsalted butter; at room temperature
1 cup granulated sugar
2 large eggs
11/2 cups all-purpose flour
1 tsp. baking powder
1/2 tsp. salt
1/3 cup milk
1 tsp. vanilla extract
11/2 cups fresh sliced strawberries
Directions:
Preheat the oven to 350 degrees. Insert liners into a medium cupcake pan.
In a large bowl cream together the butter and sugar with an electric mixer on medium speed until fluffy, 3-5 minutes. Add the eggs one at a time. Beat will after each addition.
In a separate bowl combine the flour, baking powder, and salt.
Add the dry ingredients to the creamed mixture, alternating with the milk. Mix for 3 minutes. With a rubber spaturla, fold in the vanilla and strawberries.
Fill the cupcake liners one-half full. Bake for 20-25 minutes or until a toothpick inserted into the middle comes out clean. (Be careful not to overbake!) Cool cupcakes in the pan.
Cream Cheese Frosting
Ingredients:
2 3-ounce packages cream cheese
1/2 cup softened butter
2 tsp. vanilla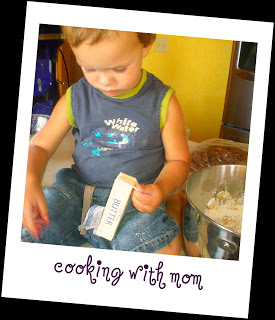 41/2 to 43/4 cups sifted powdered sugar
In a bowl beat together cream cheese, butter, and vanilla till light and fluffy. Gradually add 2 cups powdered sugar, beating well. Gradually beat in enough remaining powdered sugar to make frosting of spreading consistency–I make it firm.
To pipe on cupcakes, use the star tip and pipe up in a circular motion, to create the look in my photo at the top of the page. If you don't have a piping bag, use a plastic-lock bag, fill with your frosting, seal shut and snip the one corner of the bag. There you have it. A homemade, disposable, piping bag.