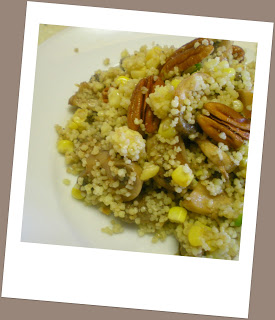 This recipe is amazing! I've added pecans to the dish which provides excellent crunch. The tender and flavorful mushrooms, couscous and creamy avacodo lend depth and earthyness. You will love this dish!
couscous salad with black beans, mushrooms, and corn
printable recipe
2 tbsp. extra-virgin olive oil
1 cup israeli couscous
course salt and ground pepper
1/2 pound cremini or button mushrooms, slcied 1/2 inch thick
1 small bunch scallions, white and green parts separated and thinly sliced
11/4 cups fresh corn kernals (from 2 ears of corn)
1 can black beans, rinsed and drained
2 tbsp. fresh lime juice
1 jalepeno, thinly sliced
1 avocado, halved, pitted, peeled, and sliced
1/2 cup chopped pecans
In a med. saucepan, heat 1 tbsp. oil over med-high. Add couscous and cook, strirring constantly, until golden brown and fragrant, about 4 minutes. Add 11/2 cups water, season with salt, and bring to a boil. Reduce heat to low, cover, and simmer until liquid is absorbed and couscous is tender, about 15 minutes.
Meanwhile, in a large skillet, heat 2 tsp oil over medium-high. Cook mushrooms, stirring occasionally, until golden brown, about 5 minutes. Season mushrooms with salt and pepper; transfer to a large bowl. Add 1 tsp. oil to skillet. Cook scallion whites and corn, stirring occasionally, until scallions are soft and corn is browned, about 15 minutes. Season with salt and pepper and add to mushrooms.
Add couscous, black beans, lime juice, jalepeno, scallion greens and 1/2 cup chopped pecans to the mushroom mixture and toss to combine. Season to taste with salt an pepper. Divide among four bowls and top with avocado.
Since this might be too sophisticated for some children, an idea that I've done is to make this for my husband and I and just make some naked spaghetti for my babes. What is naked spaghetti you might ask? Stay tuned!