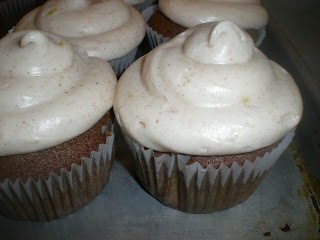 This recipe is adapted from a Betty Crocker recipe. It is so moist and delicious and the cinnamon cream cheese frosting is out of this world with the flecks of cinnamon throughout. These cookies scream fall. You must try these!
makes 18 cupcakes
printable recipe
Cupcakes:
1/2 granulated sugar
1/2 cup butter, softened
1/2 cup molasses
2 eggs
2 cups ap flour
1 tsp. baking soda
1/2 tsp. salt
1 1/2 tsp. ground ginger
1/2 tsp. ground cinnamon
1/2 tsp. ground allspice
3/4 cup water
Frosting:
1 pkg. cream cheese, softened
1/4 cup butter
1 tsp. ground cinnamon
1 tsp.vanilla
4 cups powdered sugar
1-2 tsp. milk
Heat oven to 375 F. Place paper baking cup in each of 18 regular-size muffin cups.
In large bowl, beat granulated sugar, 1/2 cup butter, the molasses and eggs with electric mixer on medium speed, or mix with spoon. stir in flour, baking soda, salt, ginger, 1/2 tsp. cinnamon, the allspice and water. spoon about 1/4 cup batter into each muffin cup.
Bake 15-18 minutes or until toothpick inserted in center comes out clean. Cool 5 minutes; remove from pans to cooling racks. Cool completely, about 20 minutes.
Meanwhile, in medium bowl, beat cream cheese, 1/4 cup butter, 1 tsp. cinnnamon and the vanilla with electric mixer on low speed until smooth. Gradually beat in powdered sugar, 1 cup at a time, on low speed until smooth. Beat in milk, 1 tso. at a time, until spreadable.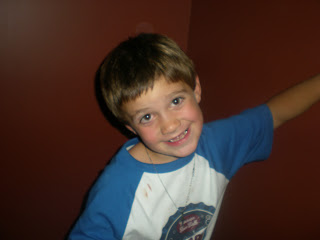 Pipe or spread a generous amount of frosting on top of each cupcake. store covered in refrigerator.
Enjoy! I know my children did.