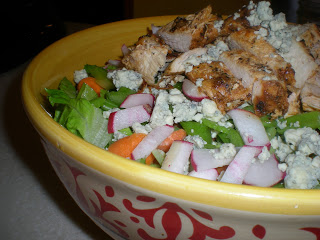 This is a delicious salad that is easy to prepare when reserving some of the chicken from the
hot buffalo chicken
sandwiches. I made an easy spicy dressing to drizzle on top of the salad that tastes perfect with the chicken.
In your menu for the week account for the this salad as one of your meals. It is easy the day after your chicken sandwiches and makes your dinner a snap. Planning your meals makes eating well, simple.
Ingredients:
2 heads of romaine lettuce, washed, outer leaves discarded, and cut into small pieces leaving the end leaves at the tip to throw away
1 large carrot, peeled and cut in 1/2 inch diagonal chunks
1 stalk celery, cut in half lengthwise and diced
1 cup crumbled blue cheese
2 radishes sliced thin
leftover spicy buffalo chicken sliced on the bias
Dressing:
3 tbsp. apple cider vinegar
1/4 light olive oil
1 tsp. cumin
1 tsp. chili powder
salt and pepper to taste
I put all the ingredients in a pint sized mason jar and shake. Taste test and make sure the dressing tastes good. If you feel it's missing something, usually it's a pinch of salt or in need of a splash of vinegar.
Assembly:
Combine all your ingredients for your salad in a nice bowl. To serve, place on individual large dinner plates, and let your guests and/or family dress the salad themselves.