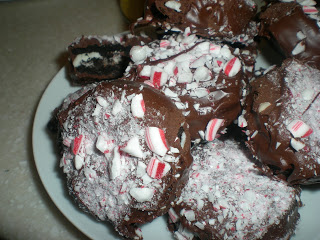 Normally I like to make everything from scratch…but who can resist Oreos? I bought some just like these at Trader Joes and decided that these would be easy to replicate and give at Christmas time. Enjoy!
Chocolate Covered Peppermint Oreos
printable recipe
2 cups semi-sweet chocolate chips
10 Oreo double stuff cookies
10 small candy canes
1.In a medium size bowl, melt chocolate chips and microwave for 2 minutes. Give a stir after 1 minute and giving full stir after the full 2 minutes to ensure it is all smooth. Set aside.
2.Take your candy canes and put in a Ziplock bag, zip shut and crush with rolling pin.
3.Dip Oreos one at a time into the melted chocolate until fully covered. Lay on parchment paper and sprinkle with the crushed candy cane. Repeat with all the cookies. Let set in refrigerator for 10 minutes.