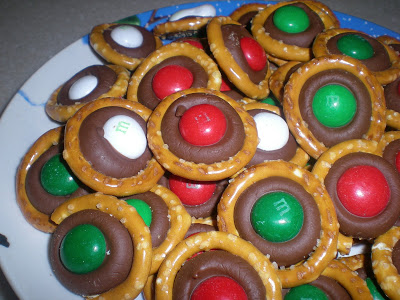 Yum. These are easy, fun and the kids will love to help. These are great to sprinkle all over your tin full of cookies along with some Hershey Kisses.

Pretzel Kiss
printable recipe
One bag of wreath shaped pretzels
1 large bag of Hershey Kisses
1 bag of mint M&Ms (I love the mint, but you can substitute with whichever M&M you love)

Preheat your oven to 200 degrees
On a Pam sprayed cookie sheet, lay in a single layer your wreath pretzels. Put an unwrapped Hershey kiss in the center of each pretzel. This is great project for the kids to do. Place in the oven for 2 minutes until just warmed. Once out of the oven, press one M&M down lightly upon the soft kiss until flattened out and touching the pretzel. Do with all of the chocolate pretzels. Once finished let set in the refrigerator for 5 minutes. Viola! Instant snack and a delightful way to add Christmas color to your tin of Christmas cookies.