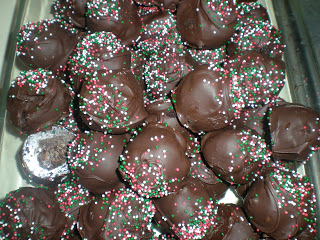 These chocolate cake truffles are amazing! You take one bite and you are in heaven.
printable recipe
Ingredients:
Your favorite cake and buttercream frosting recipe
semisweet chocolate chips
sprinkles
Directions:
Make your favorite cake recipe and bake it in a 9×13 pan. Let cool
Make your favorite buttercream frosting and set aside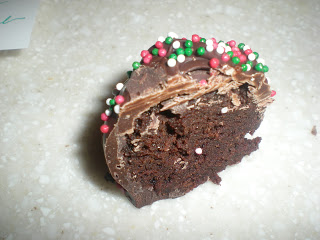 this is the decadent insides! YUM!!
In a large bowl, scoop your cooled cake and add your frosting. Lightly toss and stir until combined and all moistened. Spray 2 baking sheets with Pam spray and scoop your cake truffles onto your baking sheet with a small cookie scoop. Don't worry about their shape, after they are set you can shape them better. Place your baking sheets into the fridge to set, about 30 minutes.
Lay a large piece of Pam sprayed parchment paper on your counter and melt 3-4 cups semi-sweet chocolate chips in a large glass bowl and microwave until melted. About 2 minutes. Take your truffles out of the fridge and reshape into perfect balls by using the palm of your hands. Using a spoon, dip each truffle on at at time into the melted chocolate and lay onto the parchment paper and sprinkle with your favorite holiday sprinkles while chocolate is still wet. Repeat with each truffle, sprinkle and let set on the parchment. Once set, lay them all on a baking sheet and put in the fridge to completely set for about 30 minutes. They are now ready to eat, give and enjoy!
This recipe was used with a cake and frosting from scratch but can be used with store bought. Other truffle
ideas could be a white cake with vanilla buttercream frosting dipped in either semi-sweet chocolate or white chocolate, you could do even a cheesecake dipped in white chocolate. The sky is the limit and would love to hear of your cake truffle ideas!