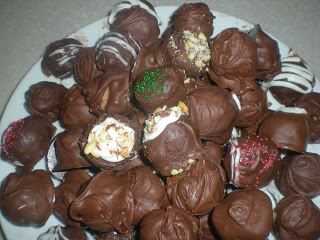 Before you judge me on my truffle craze, you must try these. Who can resist chocolate chip cookie dough? Well, resist no more my friend…these are cookie dough lovers' heaven and each one is wrapped in milk chocolate. Some are topped with peanuts, white chocolate, sprinkles or coconut… no matter what your favorite, these are sure to please.
printable recipe
Ingredients:
2 sticks softened butter
3/4 cup granulated sugar
3/4 cup brown sugar
2 tsp. vanilla
2 eggs (egg beaters are an option if desired)
1 tsp. baking soda
1 tsp. salt
2 1/4 cup AP flour
mini chocolate chips
For the truffle coating:
2 cups milk chocolate or white chocolate
Toppings include all or some of the following:
sweetened shredded coconut
crushed peanuts
melted white chocolate (placed in a sealed bag, snipped in the corner and drizzled on after milk chocolate has set)
sprinkles
Directions:
Cream your butter and sugars until light and fluffy. Add your eggs and incorporate one at a time. Add vanilla and stir. Combine your dry ingredients in a separate bowl and slowly add to your wet ingredients. Stir in your mini chocolate chips.
Use a non-stick spray on 2 cookie sheets and scoop with a small cookie scoop your cookie dough until all gone. Let set to get firm for 30 minutes in your fridge. Take out of fridge and prepare your melted chocolate for dipping. Melt your chocolate in a microwave safe bowl for 2 minutes, checking often so not to burn your chocolate. Stir until all the chips are melted. Prepare your assorted toppings: a small bowl of each or as little as you like. No topping is just as delicious, too. Take all your cookie dough balls off your cookie sheets and lay on a big dish to get ready for their chocolate bath. Respray your cookie sheets. Dunk each cookie dough ball in your chocolate and place on your sprayed cookie sheet and if a topping is desired, sprinkle it on while chocolate is still wet. Continue with all of your cookie dough balls until finished. Place finished, beautiful truffles in your fridge for at least 30 minutes to set. Once set, I like to store mine in a large tupperware and keep in the fridge to keep cool.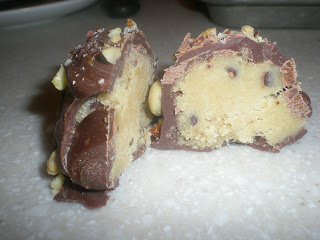 These will be a new holiday favorite for sure. Enjoy!