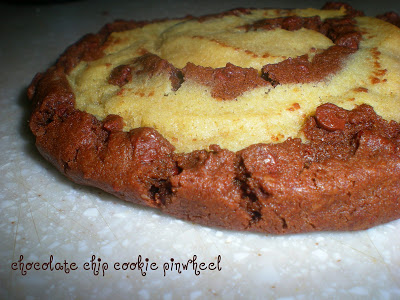 I love chocolate chip cookies. And this one looks nuts, I know! I like them huge, full of chocolate, soft and chewy, pretty to look at, and just believe me, this cookie is all of it!
These came to me in a dream…chocolate, chocolate chip and the chocolate chip cookie dough without the chocolate, rolled into one. I wasn't sure how a chocolate chip cookie dough would roll out and it rolled out beautifully. I used mini chocolate chips to create less bulk in the dough and viola! The most delicious cookie, ever! Try it for yourself and you'll see.
printable recipe
Ingredients:
2 sticks softened butter
3/4 both brown and white sugar
2 eggs
2 1/2 cups AP flour
1 tsp. both salt and baking soda
1/4 cup cocoa
1 bag of mini chocolate chips
Directions:
Combine your butter and sugars until light and fluffy
Add your eggs one and a time until incorporated and mixed in well
Add your dry ingredients and mix until fully blended together
Take half of your dough and lay on parchment paper, for the rest of the dough, add your cocoa and mini chocolate chips and stir well until all the dough is chocolate and the chocolate chips are incorporated. Place on a separate piece of parchment.
Roll out your chocolate dough first. Lightly dust the top of the dough and roll out to about 1/4 inch thick and into a rectangle. Do the same with the other cookie dough. Flip upside down the cookie dough on top of the chocolate dough and peel off the parchment paper. Now lightly roll out to make as even as possible and cut off around edges to make even. You should have the shape of a rectangle. Begin to roll, gently, allowing the parchment paper beneath the chocolate dough to help you until it is fully rolled. Throw away your parchment paper and cut, using a serrated knife, your swirled, pinwheel cookies into 1/4 thick and place on your cookie sheet. They will be large cookies so put six, evenly spaced apart.
Bake in a 350 degree oven for 10 minutes until the lighter cookie is lightly browned. Let rest on the cookies sheet when finished baking for about 5 minutes before continuing to cool on a cooling rack.
I hope you love these cookies as much as we do!