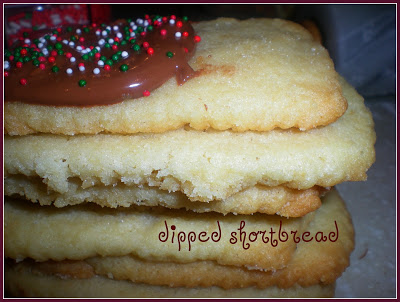 Buttery, flaky, dipped in a milky chocolate…hello! Delicious. I took this recipe from Ina Garten. Enjoy!
Ingredients:
3/4 pound butter, at room temperature
1 cup sugar, plus extra for sprinkling
1 tsp. pure vanilla extract
31/2 cups AP flour
1/4 tsp. salt
6-7 oz. of very good semisweet chocolate, finely chopped (I love Guittard milk chocolate and use a bag of this)
Directions:
Preheat the oven to 350 degrees
In the bowl of an electric mixer fitted with a paddle attachment, mix together the butter and 1 cup of sugar until they are just conmbined.Add ther vanilla. In a medium bow., sift together the flour and salt, then add them to the butter and sugar mixture. Mix on low speed until the dough starts to come together. Dump onto a surface dusted with flour and shape into a flat disk. Wrap in plastic aand chill for 30 minutes.
Roll the dough 1/2 inch thick and cut with a 3 by 1-inch finger-shaped cutter. Place the cookies on an ungreased baking sheet and sprinkle with sugar. Bake for 15 minutes, or until the edges begin to brown. Allow to cool to room temperature.
When the cookies are cool, place them on a baking sheet lined with parchment paper. Put 3 ounces of the chocolate in a glass bowl and microwave for about 2 minutes, checking at 1 minute and giving it a stir. Stir with a spoon to make it nice and creamy.
Drizzle 1/2 of each cookie with just enough chocolate to coat it.