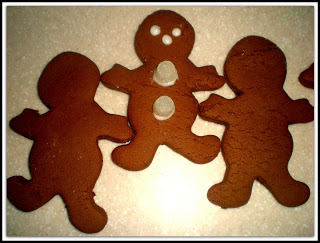 What can I say…they're a holiday classic. We made these for one of my daughter's party and had fun decorating them. There are so many ways you can decorate: snipped mini marshmallows, gum drops, m&ms, and of course the royal icing. I like to make mine about 1/2 thick because I like a more softer cookie and it puffs up nice and is so delicious. The molasses in this recipe is reminiscent of my Christmas' as a child.


Ingredients:
printable recipe
31/2 cups flour
1 tsp baking soda
1 tsp. salt
1 tbsp. ground ginger
2 tsp. cinnamon
1/4 tsp ground cloves and allspice
6 tbsp. melted butter
2/3 cup light brown sugar
3/4 cup molasses
1 egg
Directions:
Mix the butter, light brown sugar, and molasses until incorporated. Beat in egg and add the dry ingredients. Mix until combined. Divide the dough in half, wrap in plastic and pat to 1/2 inch thick. Chill 2 hours.
Preheat the oven to 350 degrees. On a floured surface, roll out each piece of dough to 1/4 inch thick, dusting with flour, if needed. Cut into gingerbread men and arrange 1 inch apart on parchment paper-lined baking sheets (or spray with Pam spray). Brush off the excess flour and chill 15 minutes. The recipe calls to chill, I didn't and it turned out beautifully.
Bake until the cookies are golden around the edges, 10-12 minutes. Transfer to a rack to cool, then decorate. Makes: 2 to 3 dozen cookies
Royal Icing:
2 tbsp. meringue powder, 1 pound powdered sugar into a large bowl. Add 6 tbsp. water with a mixer and mix until glossy with soft peaks. Tint with food coloring, if desired.