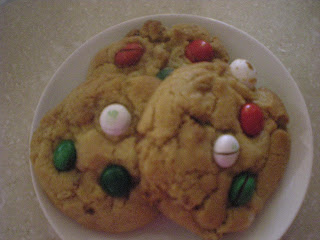 This is a copycat recipe from a Throwdown with Bobby Flay. These are amazing and my sister made these with mint M&Ms and brought them to our family Christmas party…they were a hit!

printable recipe
Ingredients:
2 sticks of cold cubed butter
1/2 cup granulated sugar
1 cup light brown sugar
1/2 cup dark brown sugar
2 eggs
2/3/4–31/4 cups AP flour (I use 3 cups)
1 tsp. salt
1 tsp. baking powder
1/4 tsp. baking soda
2 cups good quality chocolate chips or Christmas mint M&Ms
1 cup pecans or macadamia nuts
1/2 caramel bits
Instructions:
Preheat oven to 375 degrees
mix your butter and sugars together until light and fluffy. Add eggs and mix until combined. Add your dry ingredients and mix until just combined. Add your chocolate, nuts and caramel. You will have a fairly stiff dough. Roll into balls, place 12 on cookie sheet and lightly press to form. Let bake for 10 minutes or until lightly browned. Cool and enjoy!