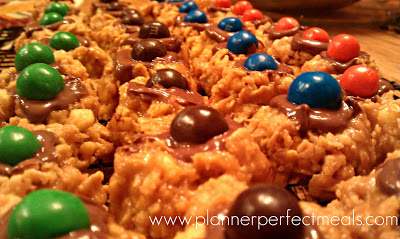 I love no-bake cookies and these are full of peanut butter goodness, melted chocolate, and crunch from the cereal that are in these bad boys. These are a must try cookie! Kids can help make these easy no-bake cookies and have fun plopping the M&M in the center.

I changed this recipe up a bit. Instead of using Kellogs cereal I used EnviroKids Peanut Butter Puffs and instead of the called for Hershey Kiss for on top…I made them into thumbprints and poured in melted chocolate and added an M&M pretzel candy.

Not too bad of an idea, Jenny, not too bad! You are going to love these:)
1 box of Envirokids Panda Puffs peanut butter puffs or Kellogs cereal (smallest box), or I thought Rice Krispies would also be delicious
1 16 oz. jar of creamy peanut butter
1 bag of Guittard milk chocolate chips
Melt the sugar and corn syrup in a small pot over low heat on the stove. Stir continually until sugars are almost transparent. Do not boil. Turn off heat and stir in your peanut butter and stir until creamy.
In a large bowl, if using the peanut butter puffs, crush in a food processor until you have a small crumble. Place in your bowl and pour the peanut butter mixture over the cereal and using a spatula mix all together until combined.
Scoop with a small cookie scoop and place on foil lined cookie sheets, lining as many as you can on the sheet. Press your finger in the center of the cookie to create a thumbprint. Continue to do to all the cookies.
Melt your chocolate chips in a microwave safe bowl and melt for 2 minutes. Take out and stir until creamy. Using a small spoon, pour a small amount into the thumbprint in the center of each cookie. Place one M&M onto each chocolate filled cookie.
Let sit for one hour until set.