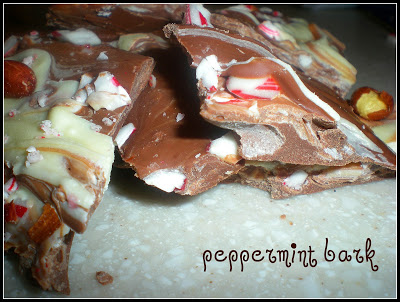 So delicious, creamy and smooth with a crunchy peppermint crunch! This was so fun to make and easy. The fun thing about this is that you can make it anyway you want. I used milk chocolate (my favorite) and white chocolate and swirled it together giving a marble look and of course topped it with crushed peppermints. I added peanuts because I love them, but you could add marshmallows, any kind of nut, dried fruits, whatever you like. Try making several different kinds and give as gifts…you and your friends will love them.
Ingredients:
2 bags of good quality chocolate chips such as Guittard
2 bags of good quality white choc. chips (if marbling)
crushed peppermints
Any topping of your choice to have contrast of flavors.
Directions:
Lay foil, shiny side-up on a baking sheet.
Crush candy canes or peppermints by putting two handfuls into a ziplock bag and using a rolling pin crush, leaving large and small candy chunks.
Have your other toppings (optional) out and ready
Melt your 2 bags of chocolate in microwave safe bowl for 3-4 minutes until fully melted. Checking every minute to check and give it a stir. When full melted, stir until creamy and pour onto the foil lined baking sheet and create a circle. If marbling, melt the white chocolate in a separate bowl and pour the milk and white chocolate side by side and take you knife and swirl into each other. Once finished, add your crushed peppermints and other toppings pressing down; I added peanuts.
Let set for one hour and finish off in the fridge for one hour. Once set, break the bark-up and you're ready to go.
Enjoy!