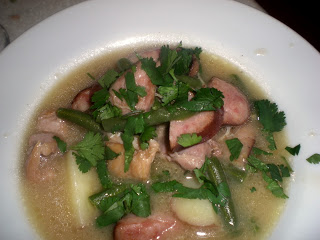 This is perfect for those warm, cozy nights. It is an easy, one-pot meal that will have your family fed in less than 30 minutes and them begging for more. Plan on your baking day to make rolls and half bake them until you serve this stew…delicious!
printable recipe
Ingredients:
6 skinless, boneless chicken thighs, trimmed
kosher salt
1 tbsp. olive oil
1 link Andouille sausage
1 tbsp. all-purpose flour
1 3/4 chicken stock
3 medium red potatoes, cut into 1/2-inch pieces
1 handful of fresh green beans or frozen
the juice of one lime
1/4 cup chopped, fresh cilantro
Directions:
Cut each chicken thigh into quarters.
*You can also work with a bone-in thighs and trim them yourself, and add a couple of the bones to the pot to make the broth in place of the broth needed in the recipe and just add water.*
Heat the oil in a large skillet over medium-high heat. Add the sausage and cook, stirring, 1 minute. Add the chicken in a single layer and cook undisturbed until browned, about 4 minutes. Continue to cook, stirring occasionally , until the chicken is golden brown all over, about 5 minutes. Sprinkle the flour over the chicken and cook, stirring, 1 minute.
Stir in the broth (or water with 2 of the bones) and the potatoes and bring to a boil. Reduce the heat and simmer, covered, until the potatoes are just tender, about 10 minutes. Stir in the green beans and cook, covered, until the chicken and the potatoes are cooked through, 5-10 minutes more. Remove from the heat and stir in the lime juice and cilantro.