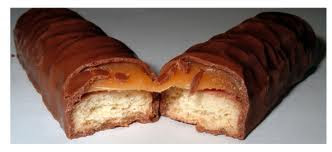 These cookies came about by accident. I found them while thumbing through a magazine at the doctors office. I looked around to make sure the coast was clear and then I ripped the page out. You'll thank me for this steal because these are tasty! I've tried them with different candy bars as well…delicious.
Caramel-filled Chocolate Cookies
printable recipe
Makes 4 dozen
1 cup butter, softened
1 cup sugar
1 cup firmly packed brown sugar
2 large eggs
2 tsp. vanilla extract
21/4 cups all-purpose flour
¾ cup unsweetened cocoa
1 tsp. baking soda
1 cup chopped pecans, divided
6 (2-ounce) pkgs. Twix candy bars cut into 1-inch pieces
1 tbsp. Sugar
2 (2-ounce) vanilla bark coating squares
Beat butter at medium speed with an electric mixer until creamy; gradually add sugars, beating well. Add eggs, 1 at a time, and vanilla, beating until blended after each addition.
Combine flour, cocoa, and soda; add to butter mixture, beating at low speed until blended after each addition. Stir in ½ cup pecans. Shape 1 tablespoon dough around each candy piece, covering completely, to form balls.
Combine remaining ½ cup pecans and 1 tablespoon sugar. Gently press the top of each ball into pecan mixture. Place balls, pecan sides up, 2-inches apart on baking sheets.
Bake at 375 degrees for 7-10 minutes. Cool on baking sheets 2 minutes. Remove from baking sheets; cool completely on wire racks.
Melt coating squares in a saucepan over low heat, stirring constantly until smooth. Drizzle over cookies.