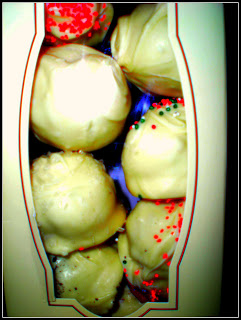 These are sinful. I made a traditional white cake with cream cheese frosting…combined them by mixing the two together, rolled them into balls and dipped them into melted, white chocolate. You've got to make these!
printable recipe
White Cake Ingredients:
2 1/2 cups AP flour
2 cups sugar
1 tsp. baking powder
1/2 tsp. baking soda
1 1/3 cups buttermilk or sour milk
1/2 cup butter
1 tsp. vanilla
4 egg whites
Directions:
In a bowl combine flour, sugar, baking powder, baking soda, and 1/8 tsp. salt. Add buttermilk, butter and vanilla. Beat with an electric mixer on low speed for 30 seconds, scraping bowl. Beat on medium to high speed for 2 minutes, scraping bowl occasionally. Add egg whites and beat for 2 minutes more, scraping bowl.
Pour into 2 greased and floured 9×13 pan. Bake at 350 degrees for 25-30 minutes until a toothpick inserted into the center comes out clean. Let cool.
Cream Cheese Frosting:
2 3-ounce packages of cream cheese
1/2 cup softened butter
2 tsp. vanilla
4 /12 cups powdered sugar
In a bowl beat together cream cheese, butter and vanilla till light and fluffy. Gradually add 2 cups powdered sugar, beating well. Gradually beat in enough remaining powdered sugar to make into spreadable consistency.
White Chocolate:
4 bags of good white chocolate such as Ghiradelli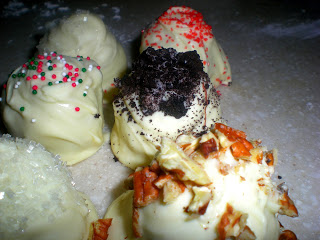 Sprinkles, nuts, cookies, peppermints and any toppings of your choice
Assembly:
After cake is cooled, scoop out into a large bowl. Pour in the frosting and mix until combined and all is moistened. Using a small cookie scoop, scoop cake truffles onto a baking sheet and chill in the fridge for at least 30 minutes.
Melt your white chocolate in a large Pyrex glass bowl in the microwave for 2 minutes, stirring after the first minute and stir fully after the 2 minutes. You don't want your white chocolate to melt so keep an eye on it, you may only need one minute or so…just keep checking.
Lay out parchment paper on your counter, get your sprinkles and toppings ready if you choose, and your cake balls out ready for dunking in the warm melted chocolate.
Give each cake ball a good roll in your clean hands to ensure a smooth ball and dip each cake ball into the melted chocolate and carefully rolling it around to get even coverage. Be careful here as the cake can fall apart if messed with too much. Lay on your parchment paper and swirl any leftover white chocolate left on your spoon on the top of your truffle. Continue until chocolate and truffles are gone. You can mix it up and melt milk chocolate and dip in it and drizzle with white chocolate. The possibilities are endless. Once set, lay on a baking sheet and let completely set in the fridge for a couple hours. Now you are ready to let the world try your amazing white cake truffles with cream cheese frosting and dipped in white chocolate, delights. Or…keep them all for yourself. Enjoy!