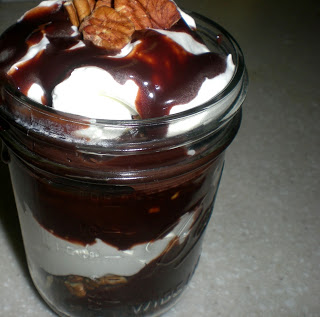 This is insane delicious and fun and easy to make. I got the idea from a food magazine of mine and rolled with it with my own twist. Mine is layers of brownie, homemade vanilla whipped cream, toasted pecans, and chocolate syrup. Put it a mason jar, store in the fridge, and pull out when ready. It makes the perfect make-ahead football dessert, or for any occasion.
You can make anything you want in these jars, from lemon cream pie, using pound cake and a lemon curd and whipped cream…to a Boston cream pie. The possibilities are endless. Tie a spoon to the side of the jar with some raffia and you've got a showstopper.
Ingredients:
printable recipe
My brownie recipe
Heavy whipping cream
Pure vanilla extract
1/3 cup sugar
1 cup toasted pecans
store bought chocolate syrup
3-4 wide-mouth mason jars
Brownies:
With my brownie recipe, I cut them with a round biscuit cutter to fit my wide mouth mason jar. with homemade whipped cream.
Homemade whipped cream:
1 cup heavy whipping cream
1/3 cup granulated sugar
1 tsp. pure vanilla extract
Pour your whipping cream into your mixer with whisk attachment. Whip on high for about 1 minute, add your sugar and vanilla and continue to mix until a semi-firm peaks form.
Toasted pecans:
Place pecans on a baking sheet and toast in a 350 degree F. oven for 10-15 minutes until aromatic. Let cool.
Chocolate Syrup I used was just Hersheys syrup
Assembly:
Place in your mason jar your brownie circle, your whipped cream, chocolate syrup and pecans, repeat one more time until you've reached the top. If you are going to serve them later, leave room at the top to be able to put the lid on until ready to serve. When ready to serve, top with whipped cream, chocolate syrup and pecans.
It's dessert time!
Enjoy it guys…I'd love to hear of some of your mason jar desserts!