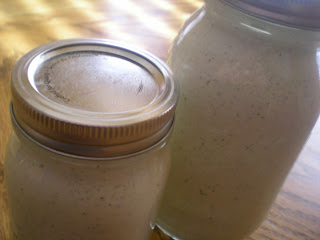 My kids love creamy, ranch dressing, but I hated all the additives and preservatives in store-bought. This recipe is amazing and I have tweaked it to my liking…I think you'll agree, it's the best buttermilk dressing, ever! Enjoy…
printable recipe
Ingredients:
1 cup each of mayo, sour cream, and buttermilk
1/2 light olive oil
2 tbsp. scallions
1/2 clove (1/2 tsp.) garlic
1 tbsp. fresh parsley chopped
2 tbsp. dill
1/2 tsp. oregano
2-3 tbsp. cider vinegar
1 tbsp. lemon juice
1 tsp. salt
2 tsp. sugar
1 tsp. black pepper

Prep:
Combine in a blender and blend well to incorporate all the ingredients. Store refrigerated for up to one month in a clean air tight container. I use a large Mason jar.
This is amazing on your salad with cucumbers, tomatoes and croutons–and an amazing dip!