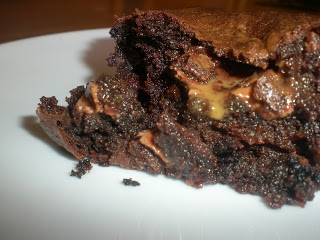 Okay, these are amazing! Full of pecans, caramel, and chocolate chunks…they are good. I put some instant espresso in these to enhance the chocolate flavor and boy did it work…try these for the super bowl and you'll be a hit!
Makes 2 dozen bars
printable recipe
Ingredients:
11/2 cups butter
13/4 cup firmly packed brown sugar
1 cup sugar
2 tsp. instant espresso granuals
4 large eggs
1 tbsp. pure vanilla extract
11/2 cups all-purpose flour
1 cup unsweetened cocoa powder
1/2 tsp. baking powder
1/2 tsp. baking soda
1/4 tsp. salt
5 (1.91-ounce) Rolos candy
1 cup milk chocolate chips (Guittard is my favorite)
1 bag of Andes mint chips (optional…I love them in chocolate)
1 cup toasted pecans
Directions:
Preheat oven to 325 F. Spray a 13 x 9 baking pan with nonstick cooking spray.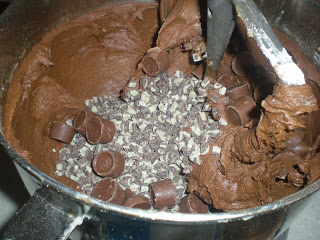 In a large mixer, beat butter, sugars, and espresso at medium speed until fluffy. Add eggs, one at a time, beating well after each addition. Beat in vanilla.
In a medium bowl, combine flour, cocoa, baking powder, baking soda, and salt. Gradually add ot butter mixture, beating until combined. Stir in caramel candy, chocolate morsels, Andes mint chips and pecans. Spoon batter into prepared pan, and bake for 40-50 minutes or until center is set. Let cool completely before cutting.