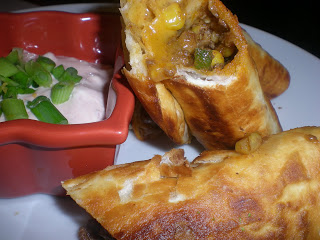 These are the best of a taco, fried. These are perfect to make up with some dipping sauce. I used some salsa with sour cream…everyone will love these taco bites.
Ingredients:
Makes about 16 taco bites
2 lbs. ground beef
8 flour tortillas
1 cup corn kernels (frozen or from a can)
1 jalapeno pepper, chopped with seeds (without if you want less heat)
2 cloves minced garlic
1/2 onion, chopped
2 tbsp. chili powder
1tbsp. cumin
1 tsp. salt
1 tsp. pepper
1/4 cup water
3-4 cups shredded sharp cheddar cheese
Dip:
1/2 cup salsa
1 cup sour cream
scallions
Directions:
Cook the 2 lbs.of hamburger meat, onion, jalapeno, garlic in a large skillet until the vegetables are softened and the meat browned. Add the spices and adjust seasoning. Add the water and corn and cook on a low simmer until water has evaporated…about 5 minutes.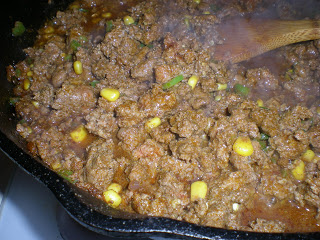 If you don't want to cut them…here is how you can plate them whole
In another large skillet, heat 1/4 cup vegetable oil until hot.
Prepare the tortillas. Do 2 tortillas at a time and add one small scoop of the meat mixture on each with a little of the cheddar cheese. Roll tight, and lay seam side down in your hot skillet. Watching so it doesn't burn and turning to brown all sides. Once done, take fried skillets off the pan and let rest before cutting. Finish the rest of your tacos.
While tacos rest, combine your dip ingredients, stir to incorporate and sprinkle with scallions.
For plating, cut each taco in half and stack on top of each other. Put the dip snuggles in between the taco bites. Delish!