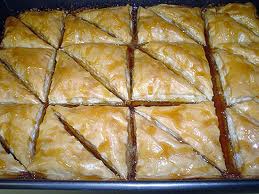 So good! It caps off the Greek meal so nicely with a wonderful cup of hot coffee. It does take some time to do, but it is worth it. My recipe comes from Emeril Lagasse from the Food Network. It is out of this world. Enjoy!
printable recipe
Ingredients
For the Syrup:
1 cup sugar
1 cup honey
3/4 cup water
1 tablespoon fresh lemon juice
2 cinnamon sticks
1 (1-inch) strip lemon zest
Pinch ground cloves
Pinch ground cardamom
For the filling and dough:
1 pound walnuts, or a combination of walnuts, pistachios and almonds
1 teaspoon ground cinnamon
1/4 teaspoon salt
2 sticks unsalted butter
1 pound phyllo, thawed according to package instructions
Directions
Position rack in center of oven and preheat the oven to 350 degrees F.
Use a sharp knife to make 4 cuts lengthwise through the layered phyllo at 1 1/2 inch intervals. (You should end up with 5 lengthwise strips 1 1/2 inches wide.) Now use your knife to cut diagonally across the strips at 1 1/2-inch intervals to form diamond shapes. You should end up with approximately 36 diamond-shaped pieces of baklava in the baking dish.