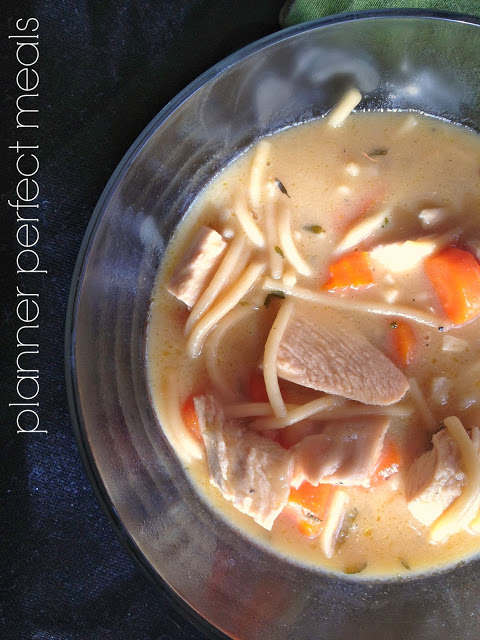 This soup is creamy, filled with carrots, celery, juicy chicken pieces, egg noodles and fresh thyme. This is delicious! You can make this soup in a snap, or if you want to make your own stock and make this on one of your baking days…the process will warm the house and fill the soul.

printable recipe
Ingredients:
2 tbsp. butter and olive oil
2 carrots, peeled and chopped at an angle
2 celery stalks, cut in half length-wise and then chopped.
1 bay leaf
2 cloves garlic, minced
1 onion, chopped
3-4 tbsp. flour
4 sprigs of fresh thyme
1/2 cup heavy cream
6 cups of either homemade or store-bought chicken stock–you will need 3, 32 oz pkgs. (I use Imagine organic, free range, chicken broth when short on time.)
Chicken pieces from 3-4 chicken breasts
Spaghetti noodles, snapped into 1-inch pieces
Chicken tips: Poaching
Place your chicken breasts in a large pan and cover with water until just covered. Put half an onion and celery in your pot along with a bay leaf, peppercorns, salt. Bring up to a boil and then turn heat down and simmer for about 20 minutes until just done. Cut into nice bite size chunks.
You can also use this method a whole fryer chicken by using a stock pot and following the same directions, adding carrots and some fresh thyme.

Rotisserie chicken: buy one from the store, take skin off and pull meat off the bone shredding into bite size pieces.
Directions:
In a medium stock-pot melt the butter and oil together until hot. Add your vegetables, thyme, and bay leaf and stir until softened, about 5 minutes. Add your flour coating all your vegetables, this is going to aid in thickening your soup. Stir and incorporate all the flour throughout… add your chicken stock. Stir until all incorporated, and bring to a full boil. Let simmer for about 20 minutes. Add your cream and spaghetti noodles. Add your chicken pieces right before serving.

Your soup is ready when you are. Serve with either my Parker House rolls, garlic and herb breadsticks or these amazing garlic and butter rolls.