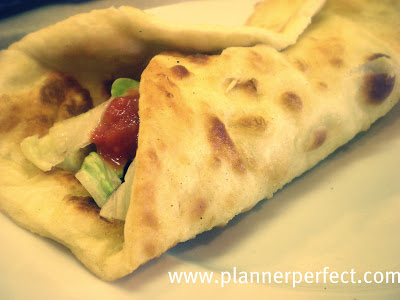 We are doing theme nights with our children and recently studied, Mexico. We made a pinata, learned some of the language, and made authentic Mexican food. It was a blast and thought I'd share with you some of our amazing recipes.
You will never eat another store-bought tortilla again, when you find out how easy it is to make these from scratch. Whether you buy a tortilla press or you roll out thin yourself, they are a snap and everyone will love dinner!
printable recipe
To make the tortilla:
4 cups flour
1 tsp. salt
2 tsp. baking powder
2 tbsp. lard or shortening
1 1/2 cups water

Combine all the dry ingredients and working with your hands incorporate the shortening throughout. Add the water, forming a ball. Knead on a floured surface until smooth. You can use a tortilla press, but I've tried both and almost prefer rolling out myself. I got it real thin this way.
Get a large skillet ready and hot with enough vegetable oil to coat the pan.
Take a small golf-ball size portion in your hands and roll out thin and round. Place in your hot oil and it should form some bubble pockets. Check with some tongs and when slightly browned, flip to brown the other side.
You are ready to top with your favorite taco meat and toppings.
It is amazing and so simple, too. Continue to make your tortillas keeping warm on a plate, in an oven on warm until ready to serve.
Taco Meat:
1 1/2 lbs. of hamburger meat
2-3 tbsp. of chili powder
2-3 tbsp. of cumin
salt
1 tsp. garlic powder
1/2 chopped onion
1/2 cup water
In a large black skillet combine all the ingredients until the meat is browned and there is no more pink. Add your water and let it simmer until the water is evaporated, approx. 5 minutes. Taste for seasoning…you may need more salt. Add to taste.
Get your toppings out to top the tacos. I cut up iceberg lettuce, jack cheese, tomatoes chopped, black olives, salsa, sliced fresh jalapeno, and sour cream.