I grew up with a full-blooded Italian mother, so as you could probably guess, we never celebrated St. Patrick's day. We even had spaghetti and meatballs on that day.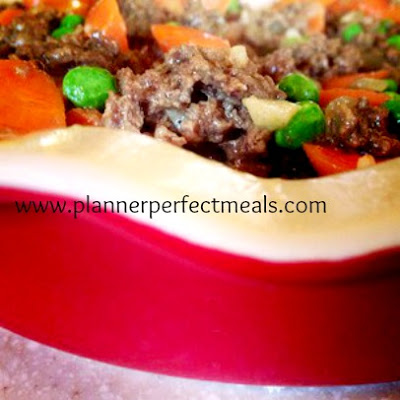 But for me, I think it's a great way to try different foods with my family.
Shepherd's pie is a staple of Irish traditional cooking thanks to the trusty potato, which was adopted by Ireland as a food crop in 1780. Shepherd's pie is an economical way to use up food in your pantry or freezer while simultaneously providing a tasty and nutritious meal for your family, on
St. Patrick's day, or any day.

This recipe is from Rachel Ray, taken from the Food Network, and let me tell you, it's amazing!

printable recipe
Ingredients
2 pounds potatoes such as russet, peeled and cubed

2 tablespoons sour cream or softened cream cheese

1/2 cup cream

Salt and freshly ground black pepper and garlic powder

1 tablespoon extra-virgin olive oil, 1 turn of the pan

1 3/4 pounds ground beef or ground lamb

1 carrot, peeled and chopped

1 onion, chopped

2 tablespoons butter

2 tablespoons all-purpose flour

1 cup beef stock or broth

2 teaspoons Worcestershire, eyeball it

1/2 cup frozen peas, a couple of handfuls

1 teaspoon sweet paprika

2 tablespoons chopped fresh parsley leaves
Directions
Boil potatoes in salted water until tender, about 12 minutes. Drain potatoes and pour them into a bowl. Combine sour cream or cream. Add the cream mixture into potatoes and mash until potatoes are almost smooth.

While potatoes boil, preheat a large skillet over medium high heat. Add oil to hot pan with beef or lamb. Season meat with salt and pepper. Brown and crumble meat for 3 or 4 minutes. If you are using lamb and the pan is fatty, spoon away some of the drippings. Add chopped carrot and onion to the meat. Cook veggies with meat 5 minutes, stirring frequently. In a second small skillet over medium heat cook butter and flour together 2 minutes. Whisk in broth and Worcestershire sauce. Thicken gravy 1 minute. Add gravy to meat and vegetables. Stir in peas.
Preheat broiler to high. Fill a small rectangular casserole with meat and vegetable mixture. Spoon potatoes over meat evenly. Top potatoes with paprika and broil 6 to 8 inches from the heat until potatoes are evenly browned. Top casserole dish with chopped parsley and serve.

Enjoy!