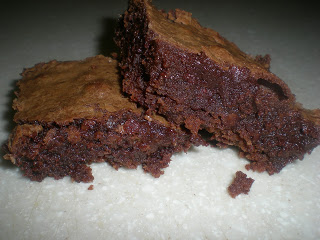 I do have a confession. I am in love with boxed brownies. There, I said it! There is something about the boxed variety that can't be beat. So soft, chewy and decadent, something that is hard to do with a homemade recipe, and something I've tried time and time again, with no success. While it's true that there are some other brownies I've made with great success, they are different than boxed all together and more of a gourmet dessert.
Well, I've found the best brownie recipe, ever, and can't wait to share it with you!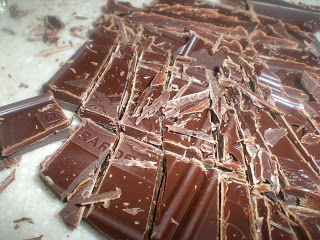 1/3 cup Dutch-processed cocoa powder
11/2 tsp. instant espresso
1/2 cup plus 2 tbsp. boiling water
2 ounces unsweetened chocolate, chopped fine (I used bittersweet)
4 tbsp. (1/2 stick) unsalted butter, melted
1/2 cup plus 2 tbsp. vegetable oil
1 3/4 unbleached all-purpose flour
6 ounces bittersweet chocolate, cut into 1/2 inch pieces (I used about 2 cups mini semi-sweet chocolate chips)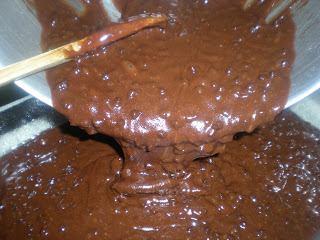 1. Adjust an oven rack to the lowest position and heat the oven to 350 degrees. Following the photos below, line a 13×9-inch baking dish with a foil sling, lightly coat with vegetable oil spray and set aside.
(
I simply sprayed the glass baking dish, skipping the foil and it worked beautifully.)
2.
Whisk the cocoa powder, espresso powder, and boiling water together in a large bowl until smooth. Add the unsweetened chocolate and whisk until the chocolate is melted. Whisk in the melted butter and oil. (The mixture may look curdled.) Add the eggs, yolks, and vanilla and continue to whisk until smooth and homogeneous. Whisk in the sugar until fully incorporated. Add the flour and salt and mix with a rubber spatula until combined. Fold in the bittersweet chocolate (or the mini chocolate chips).
3. Scrape the batter into the prepared pan and bake until a toothpick inserted halfway between the edge and center comes out with just a few moist crumbs attached, 30-35 minutes. Transfer the pan to a wire rack and cool for 1 1/2 hours. (I did not do this and dove into these brownies only after 20 minutes of cooling time…delicious! I also baked them for only 25 minutes and it was perfect. So be sure to start checking your brownies after 25 minutes
.
Each oven can slightly vary.)